Reading Time:
9
minutes
Route planning is full of variables. Thus, it makes route planning time-consuming, from factoring in traffic patterns to calculating the distance between stops, changes in the speed limit, and the time it takes delivery drivers to complete each visit.
We are frequently in touch with our customers. We got to know that some of our customers spent hours each day trying to optimize their routes before discovering Zeo Route Planner. Manually planning routes isn't just a time-drainer at the beginning of the day; it's also incredibly inefficient for the drivers as they complete their courses.
Planning routes manually isn't always efficient, and we have duly discussed this problem in the post on using Google Maps to plan multi-stop routes. This post covers how your delivery operations (route planning and route execution) benefit from routing software. Since we know different delivery teams benefit from various tools, we examine three of the best route planning software options available:
If you're ready to see the benefits of using cost-effective route planning software to plan and complete your delivery routes, sign up for a free trial of Zeo Route Planner.
Using route planning software helps your delivery operations save time and money. It will help you reduce the time taken to plan the fastest route and reduce the drivers' time to complete their stops. Creating optimized routes on the route planning side helps your drivers spend less time on the road. Using route planning helps you save labor and fuel costs, plus it leads to increased customer satisfaction because customers always get their orders on time. On the route execution side, the right route planning software will have all the advanced features you need to streamline your delivery process.
Delivery teams will benefit from order tracking to keep their customers informed with:
Updated and accurate ETAs.
Route monitoring to keep dispatch in the loop on where their drivers are within their route.
Proof of delivery to give customers peace of mind that their parcel was delivered securely.
Let's look into the route planning software that offer a good service.
1. Zeo Route Planner
Zeo Route Planner started as a route optimization software for individual drivers and small courier companies. Our route planning tool is famous and widely used among FedEx, DHL, and some local delivery service drivers. Based on the feedback received from our customers, we continuously updated our application.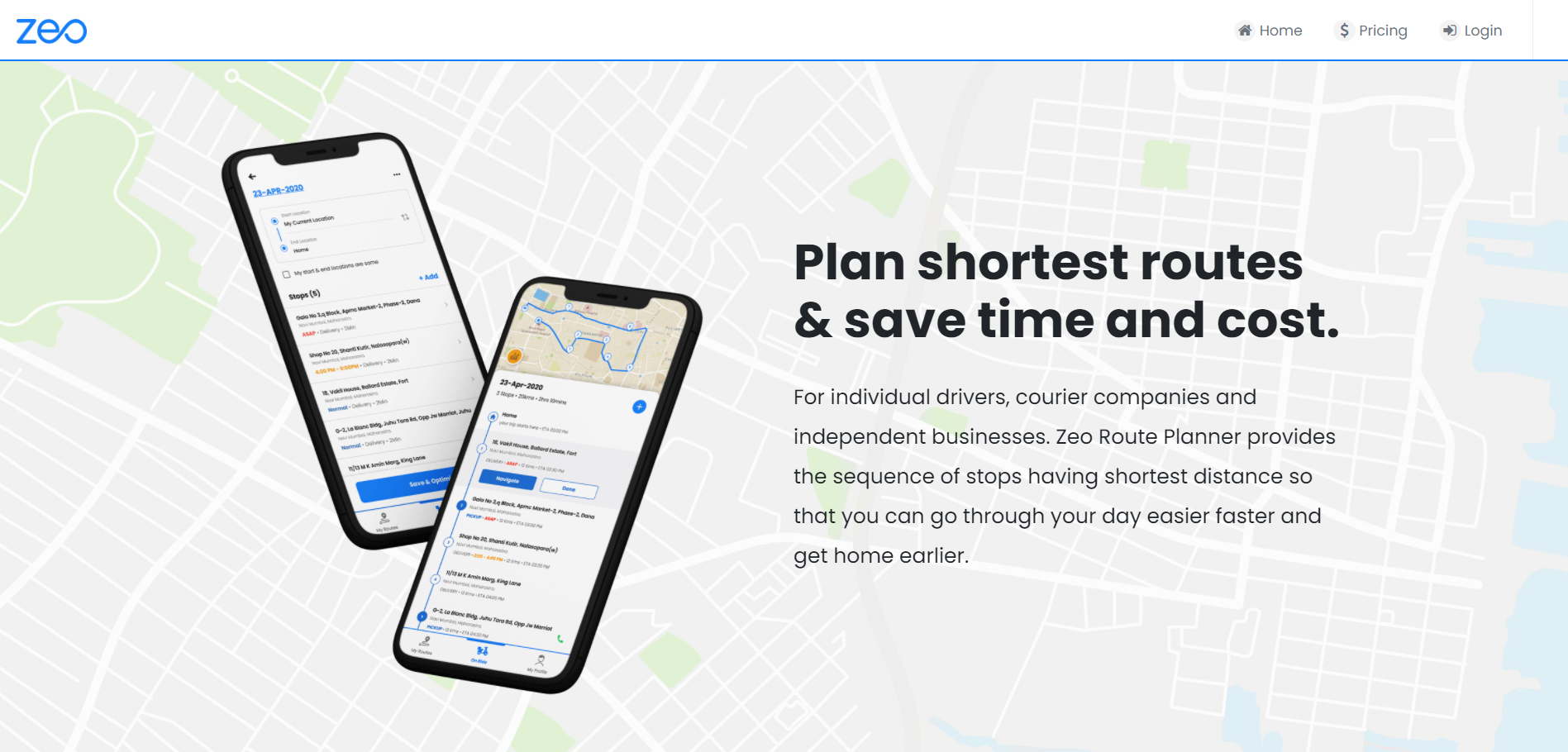 We introduced various features into our route planning software, and today we are serving a vast range of customers who own their own last-mile delivery business. Our mobile application supports both Android and iOS platforms, and our web app helps the dispatchers a lot in managing all the delivery operations.
Route planning and optimization
Zeo Route Planner responsive app lets you import more than 800 addresses at a time, which both drivers and dispatchers can do. For this purpose, we have introduced various features to import all your delivery address into the app seamlessly. You get the option to import all you address in the spreadsheet format, image capture/OCR, bar/QR code and manual typing. Our manual typing uses the same autocomplete feature provided by Google Maps, but a few more tweaks make the process easier.
After importing all your addresses to the Zeo Route Planner app, you need to set the Start Location and End Location and then click on the Save and Optimise button. Zeo Route Planner uses an advanced algorithm that will provide you the most efficient route for your drivers. The app gives you the optimized path in just 20 seconds.
Apart from this, you can also set various important delivery instructions for your delivery. You can set Stop Duration, Delivery Type (Pickup or Delivery), Delivery Priority (ASAP or Normal), Additional Customer Details in the Zeo Route Planner app. We think that this feature helps you manage the delivery properly, and therefore we have added these features.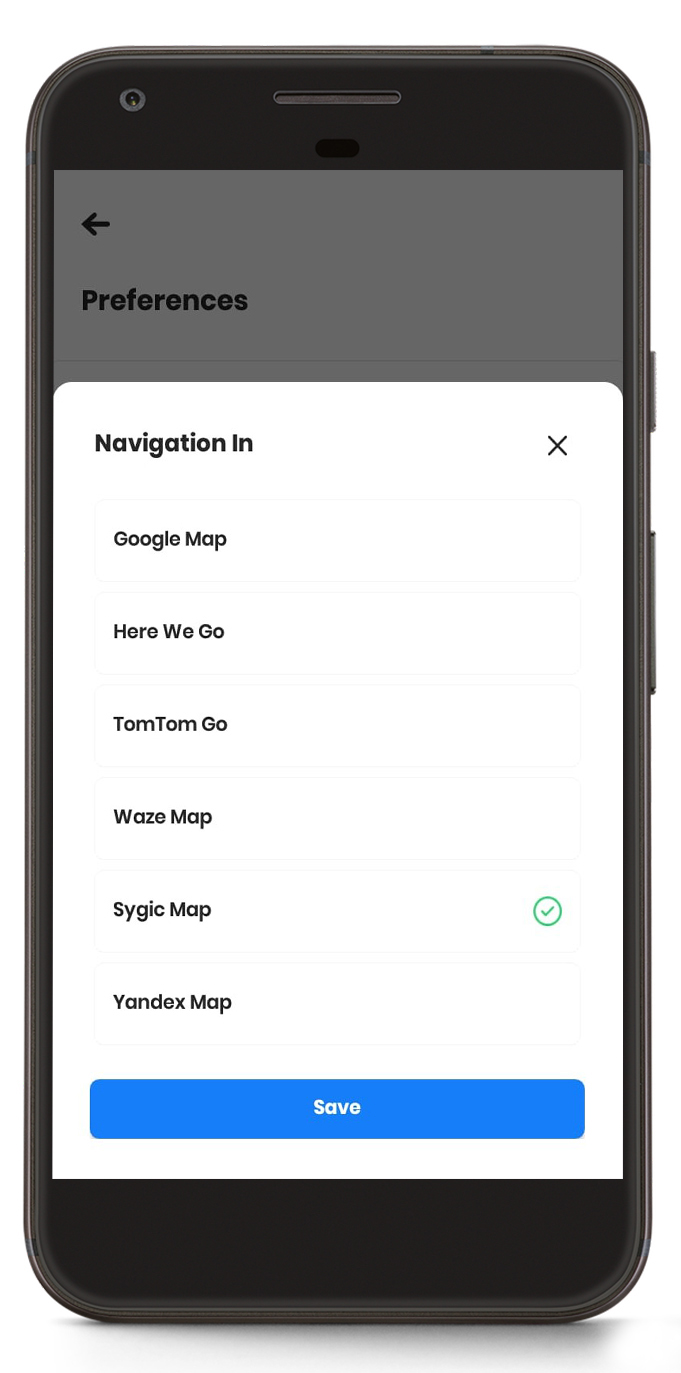 Zeo Route Planner also provides integration with all major navigation services in their free and premium tier. Zeo Route Planner opens your preferred navigation app, which you can easily choose from the app's Settings. Zeo Route Planner supports Google Maps, Yandex Maps, Waze Maps, Apple Maps, TomTom Go, Here WeGo Maps, and Sygic Maps.
Route monitoring
Route monitoring or GPS tracking is one of the essential features which is necessary if you are in the delivery business. You need to know your drivers' exact location so that you can keep your customers informed if they call for an inquiry. We want to announce that many of the route panning software providers don't provide this feature in their trail plan, and to access this feature, you need to pay for the Premium plan. But we at Zeo Route Planner give this feature in our web app in the free tier service, s that you don't get closed to one component.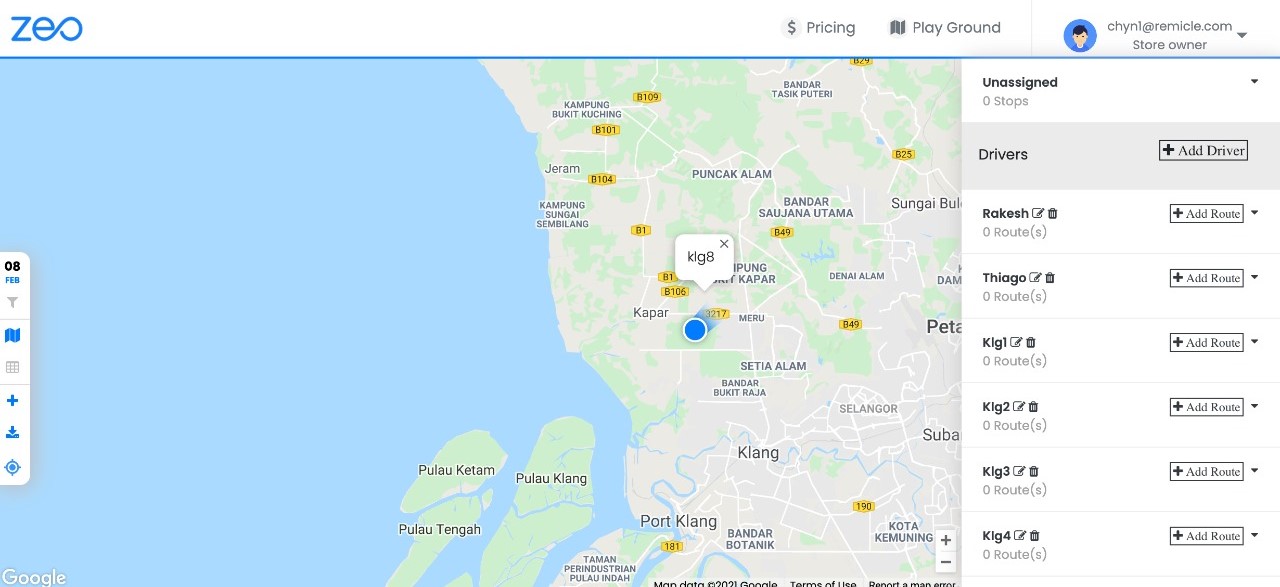 With the help of the route monitoring service, you can see all your drivers' live locations, and you are aware of where you driver are heading. If they suffer from any breakdowns on the roads, then you can send immediate help to them. With live tracking, you can also get your customers informed about the delivery if someone calls you back at the dispatching center.
Recipient notifications
We think that today's world is more customer-centric, which has also impacted the last-mile delivery systems. Thus the recipient notification is one of the essential features in the delivery software in 2021. With other features, you get access to use this feature in the free tier services as well.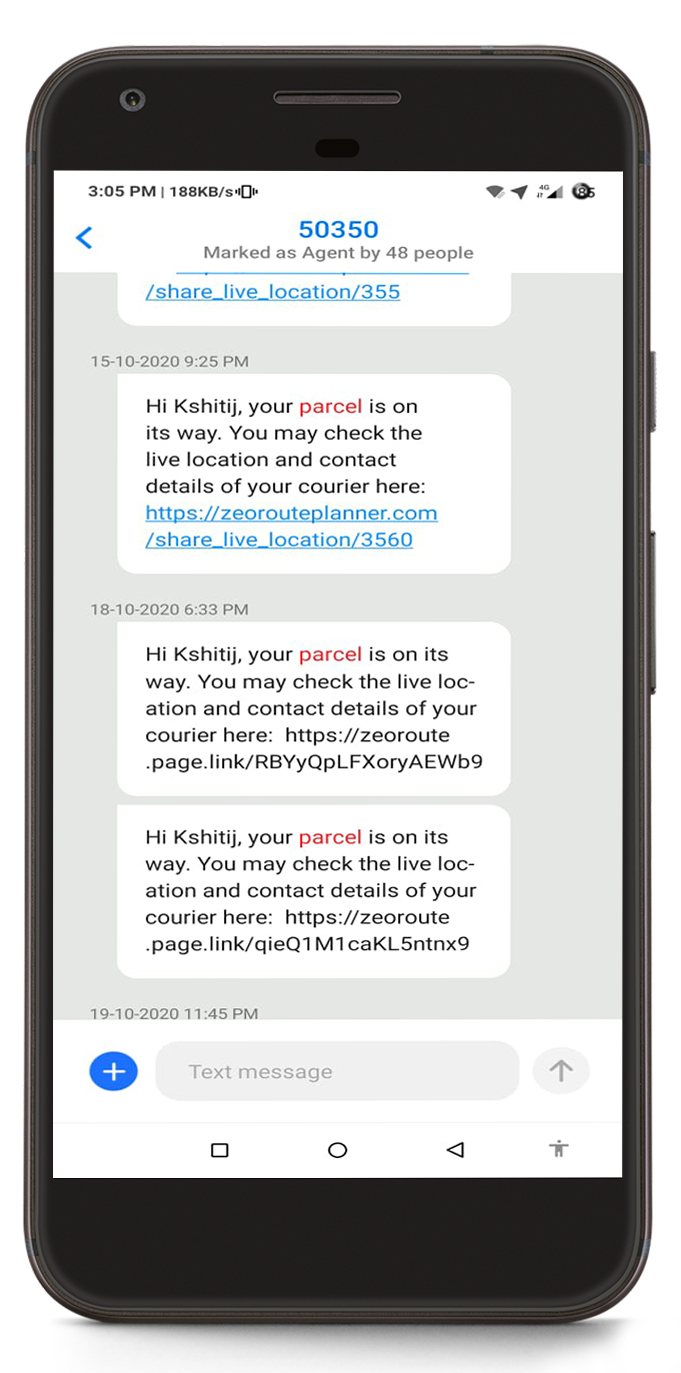 With Zeo Route Planner delivery management software's help, you can easily send out customer notifications regarding the delivery. The customers will receive the messages via SMS/email or both. They will also get a link attached through which they can track their delivery as well. With the help of this feature, you can win your customers' hearts. If you are managing a good relationship with your customers, it is liable that your business will grow exponentially.
Proof of Delivery
As we discussed, the delivery operations trends are shifting towards customer-centric; another feature that is very important in 2021 is Proof of Delivery. Managing POD is critical in the last mile delivery operations as it helps you maintain a healthy relationship with your customers and your business. We want to notify you that you don't get the POD in the free tier of any delivery management app, but you get in the free tier service of the Zeo Route Planner.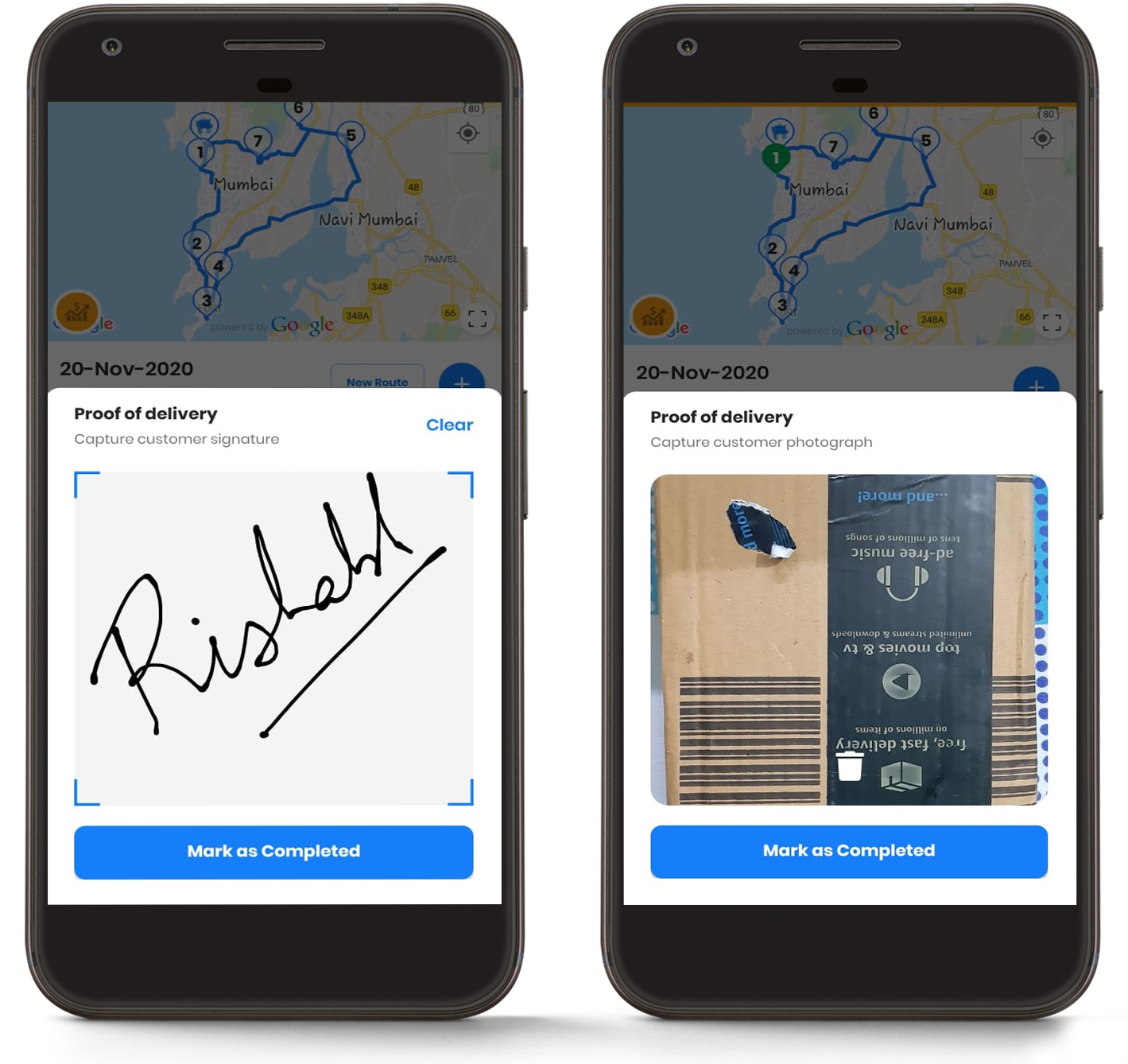 Zeo Route Planner offers you electronic Proof of Delivery or ePOD with the help of which your drivers can get the proof of the package delivered at the right place and in the right hands. We offer you two ways to capture the POD:
Signature Capture: The driver can use their smartphone as a tool to capture the signature of the recipient and ask the customer to use their fingers as a stylus and sign over the screen.
Photographic Capture: With this option, the delivery driver can leave the package at a safe place if the recipient is not there to take the delivery, and then they can capture the image of the place where they left the package for the customer.
With the help of the ePOD, you can maintain a right track of all your packages delivered, and if there is any discrepancy that comes from the customer's side, then you can quickly backtrack the database and retrieve the proof of delivery, whether signature or photograph to resolve the issues with your customers
Pricing
Pricing plays a vital role in the last-mile delivery business. You don't want to pay for any routing app which doesn't provide you all your required features. Zeo Route Planner provides a free tier service for one week without asking for your card details. By default, when you download the app, you get the premium feature enabled, in which you get access to all premium features.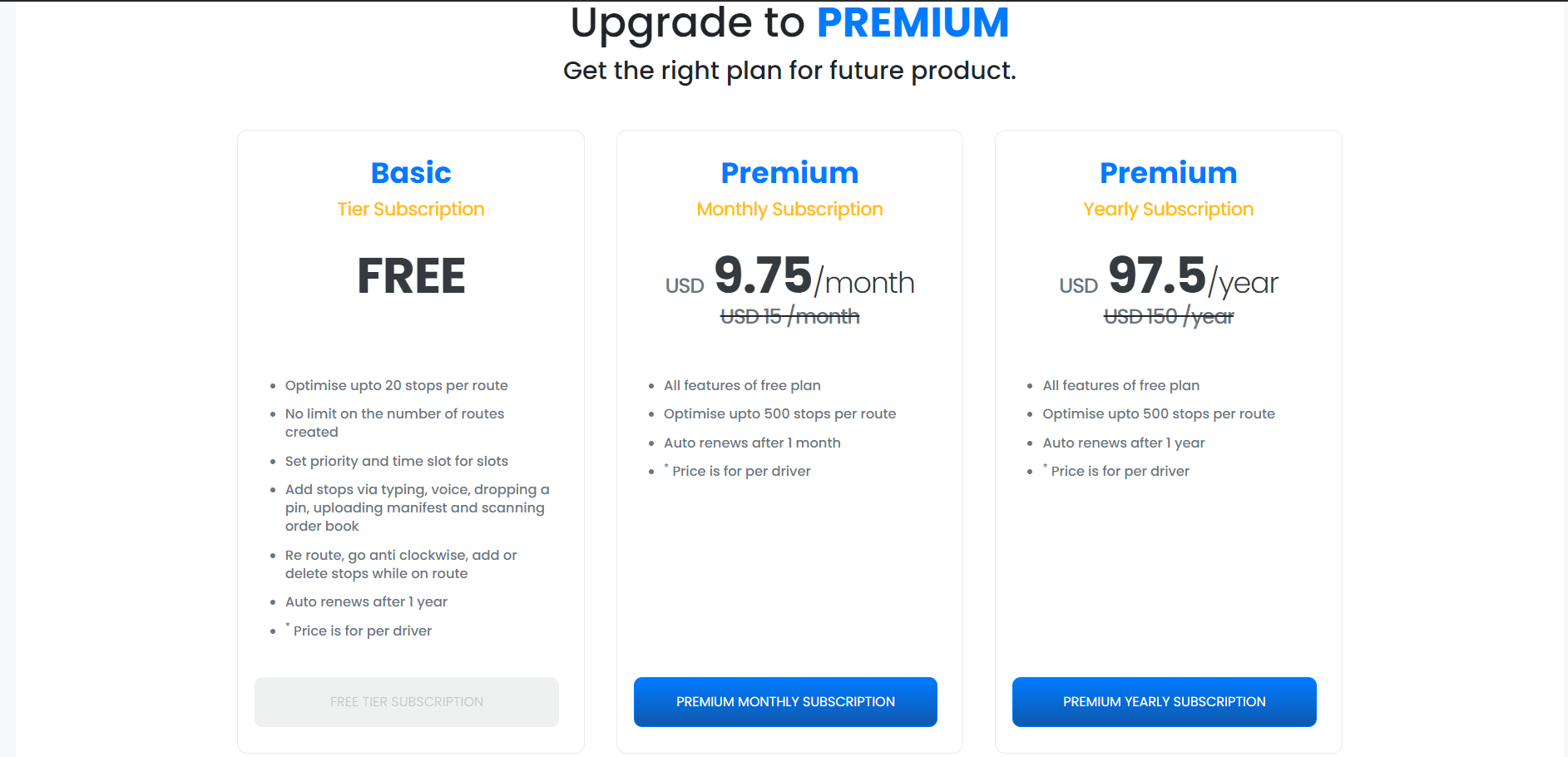 After that, if you purchase the premium tier, you continue to use the premium features; else, you are shifted to a free tier service in which you can only add up to 20 stops. Zeo Route Planner offers you a free pass, which you can get by referring the app to your friends after the trial of your premium tier. Zeo Route Planner costs around $15 in the US market, and currently, we are operating at $9.75.
2. Circuit
Circuit is also a delivery management software that offers good service for the delivery operations, and they are doing reasonably well in this domain. They offer two different apps, one for the drivers and the other for teams.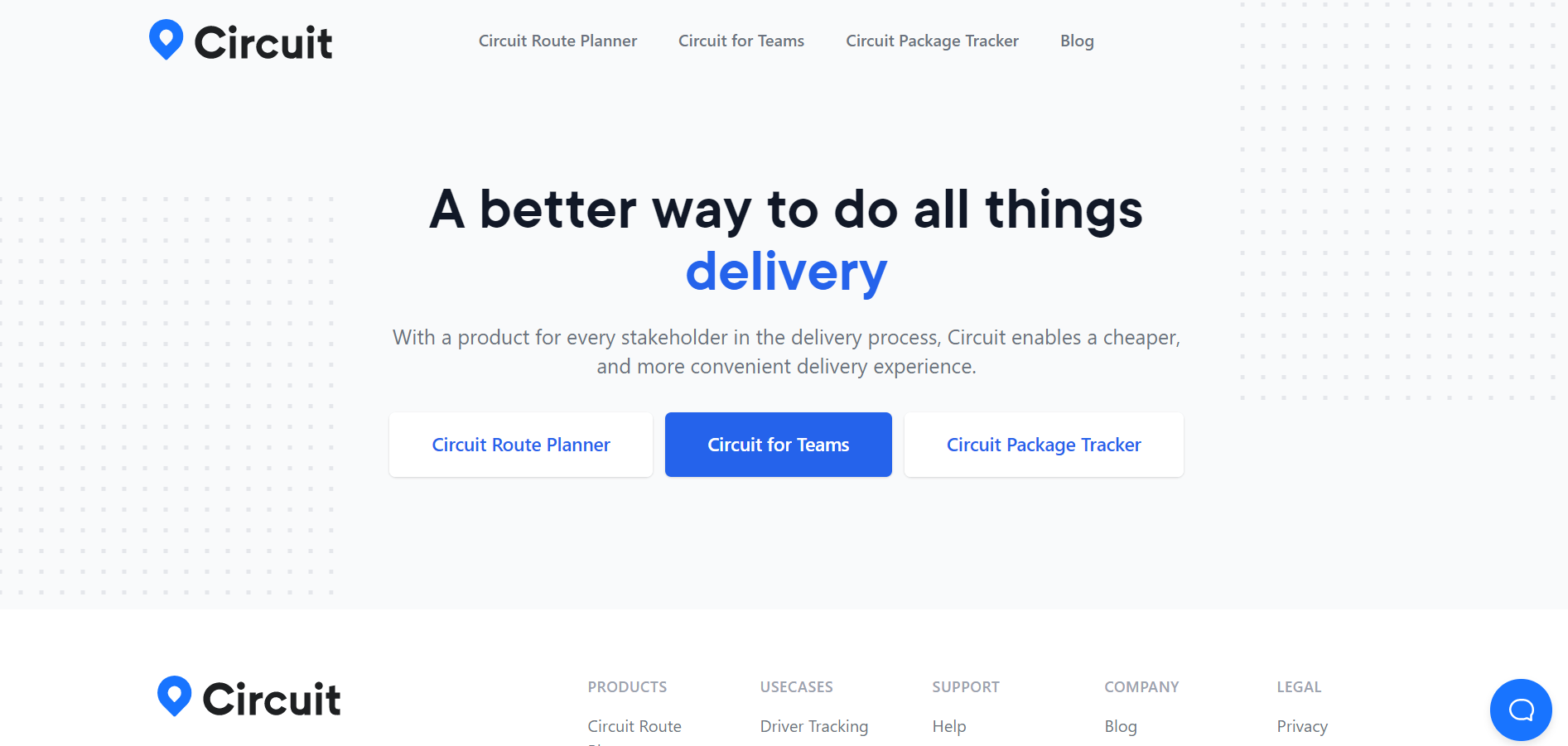 The app for individual driver only allows you to load the addresses and complete the delivery operations. Circuit for Teams is their latest introduction in the market, including all the advanced features and access to their web app, which the dispatcher manages.
Let's look what Circuit has to offer in their app.
Route planning and optimization
Circuit offers two methods to import the address: manual typing and other is excel import. Apart from these two options, you don't get any other feature to load your address into your app. You also get the opportunity to add few additional details regarding the delivery process, such as Priority Stop and Time Duration.
You get a cap on the number of stops you add in the free service. Also, the optimization of the routes takes almost a minute to provide you an efficient way. Circuit works with the navigation apps, such as Google Maps, Waze, and Apple Maps.
Other additional services
Circuit provides you with some additional features, including recipient notification, Proof of Delivery, and route monitoring. But to access all these features, you need to get the Circuit for Teams membership. All these features are included in their Teams plan, and also, one thing to note that you have to provide your card details if you want to use the free trial of their Teams app.
Pricing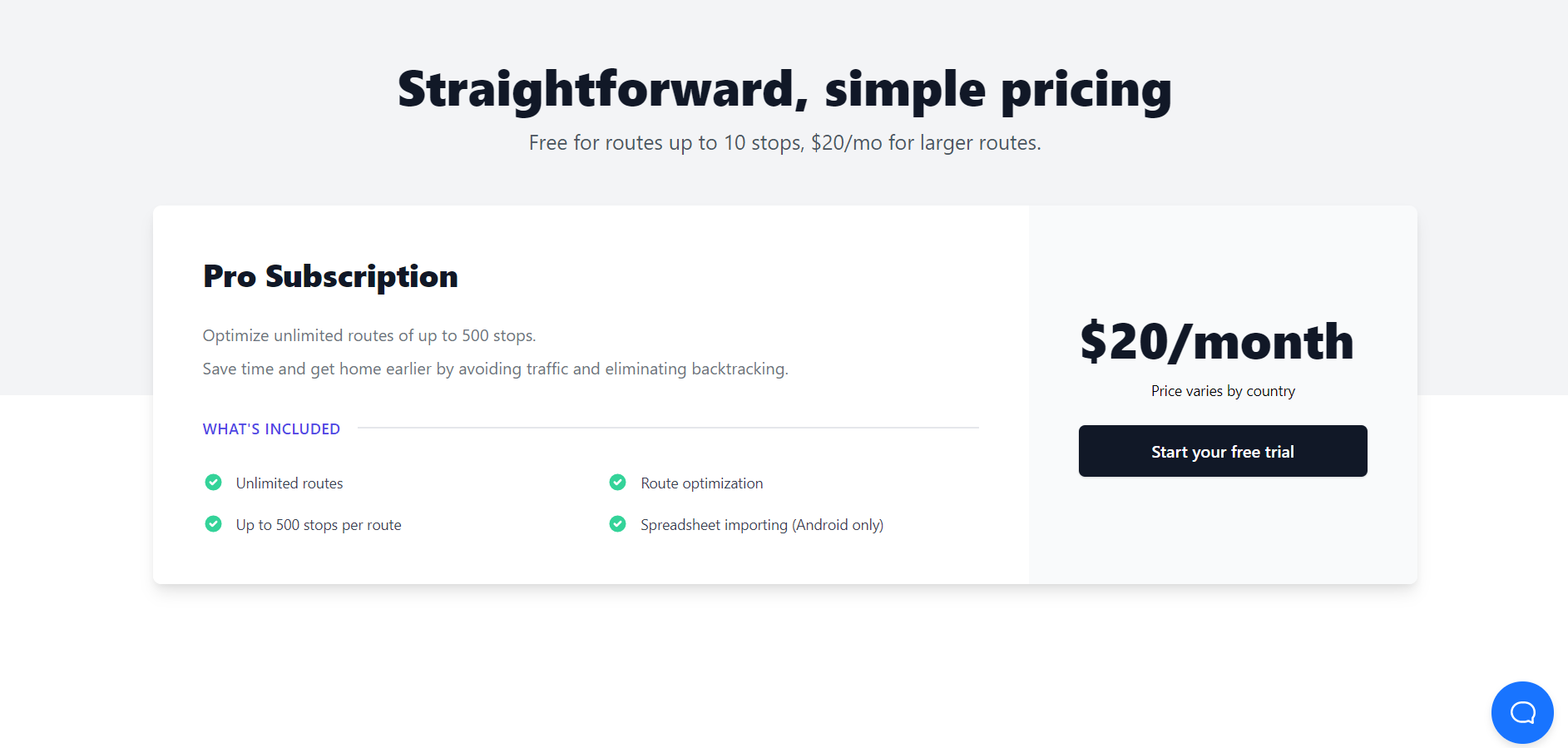 Circuit app provides you a one-week free tier in which you can add ten stops. One thing to note here is that Circuit asks you to enter your card details when you try your free tier services. Also, Circuit for the US market costs you around $20.
3. Routific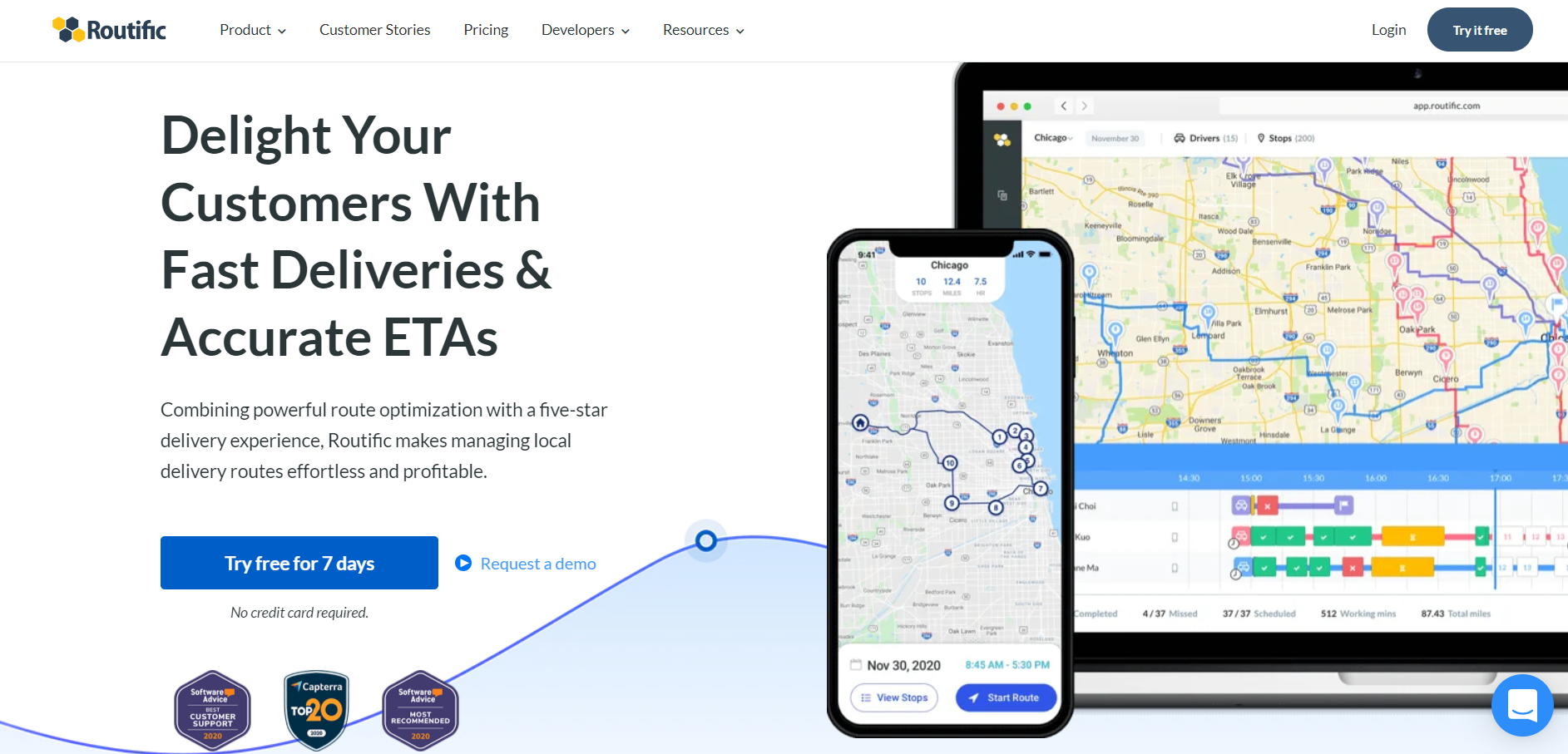 Routific is a route planning tool that contains some of the advanced features we talked about above, let's look at how you can use them to plan routes.
Route planning and optimization
When planning routes with Routific, you have four different ways of getting addresses into the platform.
Shopify Integration
Spreadsheet Import
Create Customer Profiles
Add Customers Manually
Once you get your addresses imported into the Routific, you can start optimizing your routes. A plus with Routific is that you can drag and drop stops. For example, if Routific creates a route that you want to modify slightly, you can pull a stop and change its order within the route. (Note: Manually changing optimized routes can make the routes less effective.)
After you finalize your routes, you can pass them to your drivers, who can access them using the Routific app
Other key features
Similar to Circuit, Routific offers features to help delivery teams optimize their processes.
With Routific, you can monitor ongoing routes with their "Live Tracking" feature. Live Tracking works a little differently than the route monitoring we discussed above. With Routific, you're looking to see when a driver marks a stop as completed or skipped.
Routific also lets drivers collect proof of delivery, but in a more limited capacity than Circuit. Drivers using Routific can order a signature on their smartphone when they complete a delivery, but there is no photo capture option when they have to leave a package at a customer's front door.
Pricing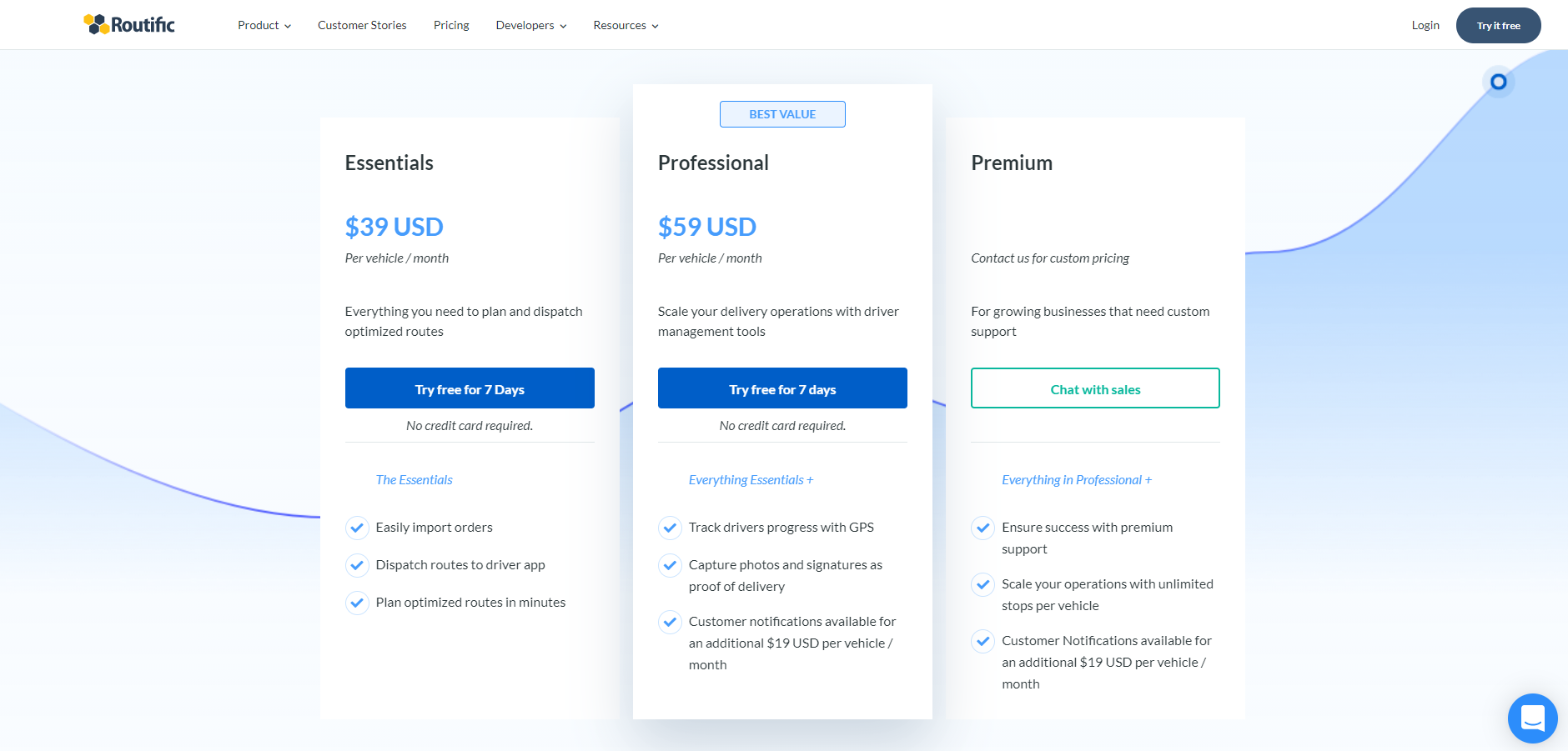 Routific has two main pricing tiers: the Essentials plan and the Professional plan. The main difference between each plan is that the Essentials plan doesn't offer live tracking for ongoing deliveries, nor can you use an API integration to integrate Routific into your current workflow. Routific also offers a premium option, a custom option where Routific takes a look at your delivery needs and recommends a unique, specific plan catered for you.
Conclusion
Several variables go into delivery route planning. When you try to plan your routes manually, you not only waste time in the morning, but you also waste time during the day as your drivers navigate inefficient routes.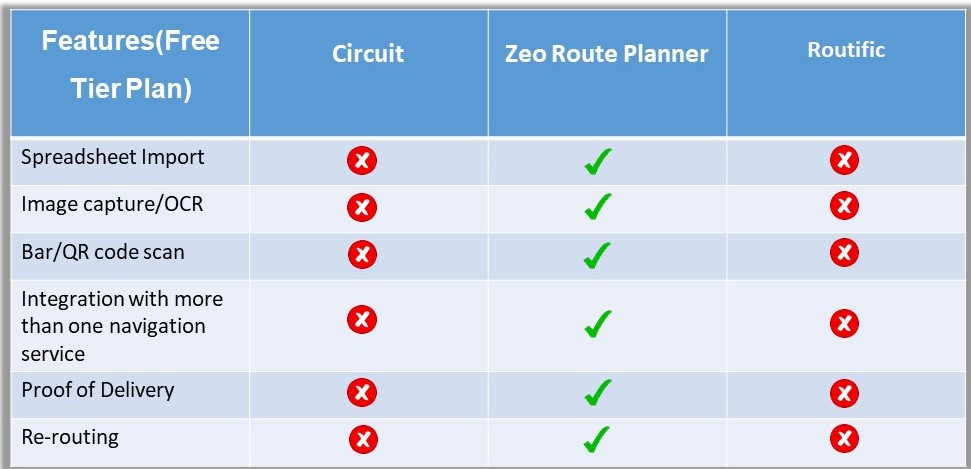 While the best route planning software for your delivery service will vary based on your needs, we designed Zeo Route Planner to be a viable option, no matter your operation's size.
In This Article