Reading Time:
2
minutes
Zeo Route Planner has always tried to ease the process of the last-mile delivery process. We have continuously pushed our team to develop those features that can help manage the logistics, and thus we always move the latest updates for our app and the web app. We have developed a new feature that will help the drivers or the logistics manager import the addresses using image capture/OCR.
OCR stands for Optical Character Recognition. It is a widespread technology used to recognize text inside images, such as scanned documents and photos. OCR technology virtually converts any image containing written text (typed, handwritten, or printed) into machine-readable text data.
We have received feedback from our drivers where they explained that sometimes they get the package from the station and spend much time entering the addresses. This gave us the idea to introduce this feature though which the drivers can scan the package and get the address imported in the app.
You can also import the addresses using a spreadsheet or import addresses using QR/Bar code into the Zeo Route Planner app.
Steps to import address using image capture/OCR in the app
Follow these simple steps to import the address in the app using the image capture feature.
Open the Zeo Route Planner app and head towards the My Routes tab.
Then press the Add New Route button to open the various options to add the address.
After pressing the Add New Route button, another screen will load up, and you will see various options such as Add Stop, Import Stops, Image Capture, and Scan Bar/QR code.
Press on the Image Capture button.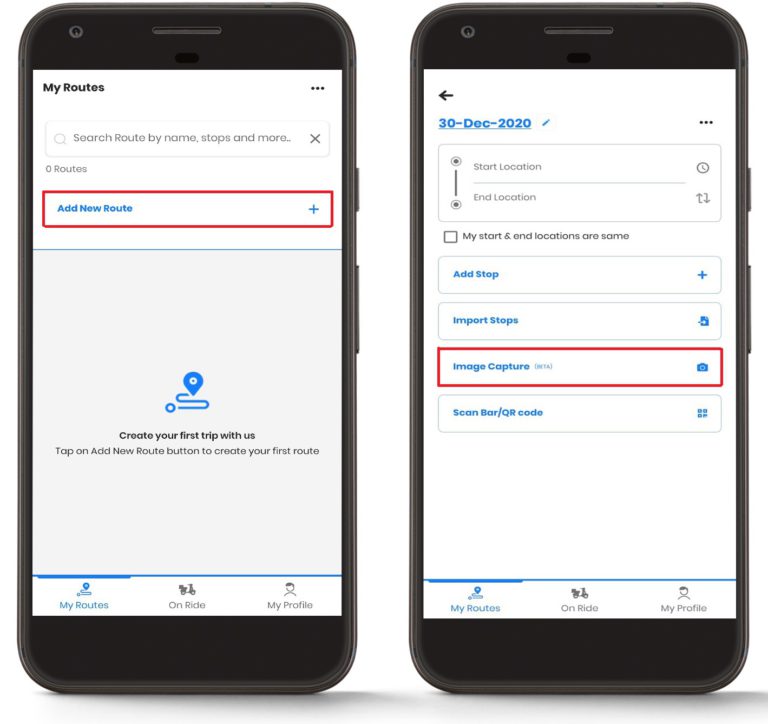 After pressing the Image Capture button, a new window will open up, which will contain all the images from your album.
Press on the Camera icon on the top right corner. This will open the camera of your smartphone.
Capture the address's image from the package and click on OK if you are satisfied with the image.
The app will analyze the image and will provide you with the address. Press on the Validate button and then the Done button to finish the process. You can also press the Scan More button to add more addresses.
If the address is long in the image, it will be broken down into several lines, and then you need to press the Merge button to combine the big address. You will find the Merge button just beside every address line.
Press on the Save and Optimize button to get the optimized route. Also, enter the Start Location and End Location.
That's all; now you are ready to go and deliver all the packages on time.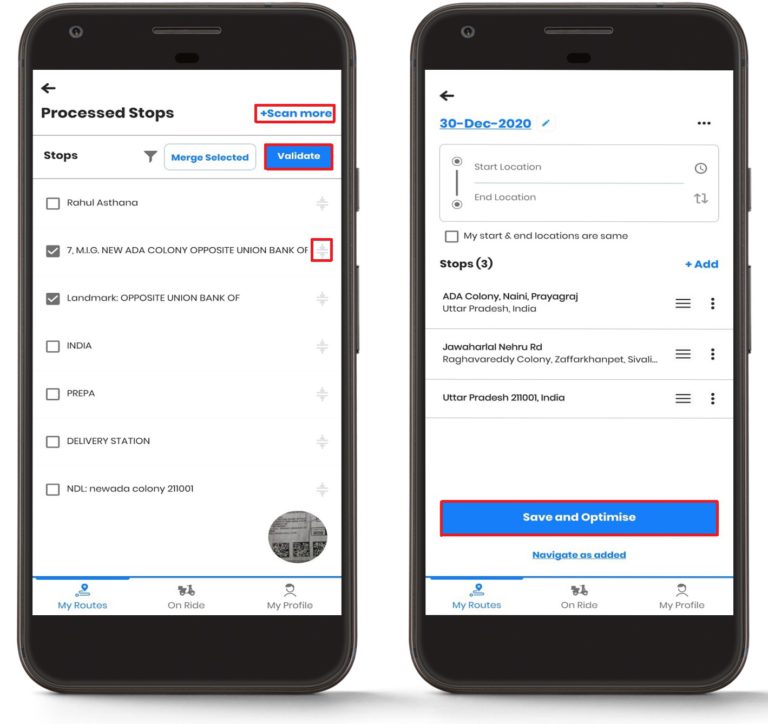 Still need help?
Contact us by writing to our team at support@zeoauto.com, and our team will reach out to you.
In This Article