Reading Time:
10
minutes
Route4Me is a route planner and management app in the market for a reasonable amount of time. They have introduced some decent features in the field of last-mile delivery. However, after discussing and interacting with many people involved in the last-mile delivery process, we found that Route4Me is not a good fit for every delivery business. We found various reasons for not choosing Route4Me as a good fit for the delivery operation.
However, we will list two primary reasons for not choosing Route4Me: Firstly, its pricing structure is not very good, they have a cap for ten drivers, and you need to pay $50 extra for every extra driver. Due to this fact, if you're managing a team of three delivery drivers, then you're paying more per driver than a group of seven delivery drivers. Plus, if you're working with a large courier fleet with more than ten drivers, your monthly rate will quickly add up.
Secondly, Route4Me offers various features needed for delivery operations, and you need to pay for those features additionally. Route4Me has three different main pricing tiers, with only their most comprehensive package offering multi-driver route optimization. But other standard delivery software features, such as proof of delivery or route monitoring, need to be purchased via Route4me's online marketplace for an extra fee.
Due to the above reasons, Route4Me may not be the best fit for your delivery operations. To find the best alternative for Route4Me, we will be covering and examining three route planning software in this post which are:
Let's look at these alternatives in detail.
Read here more about what Zeo Route Planner offers as a service and how they help their customers grow in the last mile delivery operations.
1. Zeo Route Planner
Zeo Route Planner started as a route optimization software for individual drivers and small courier companies. Our route planning tool is famous and widely used among FedEx, DHL, and some local delivery service drivers. Based on the feedback received from our customers, we continuously updated our application.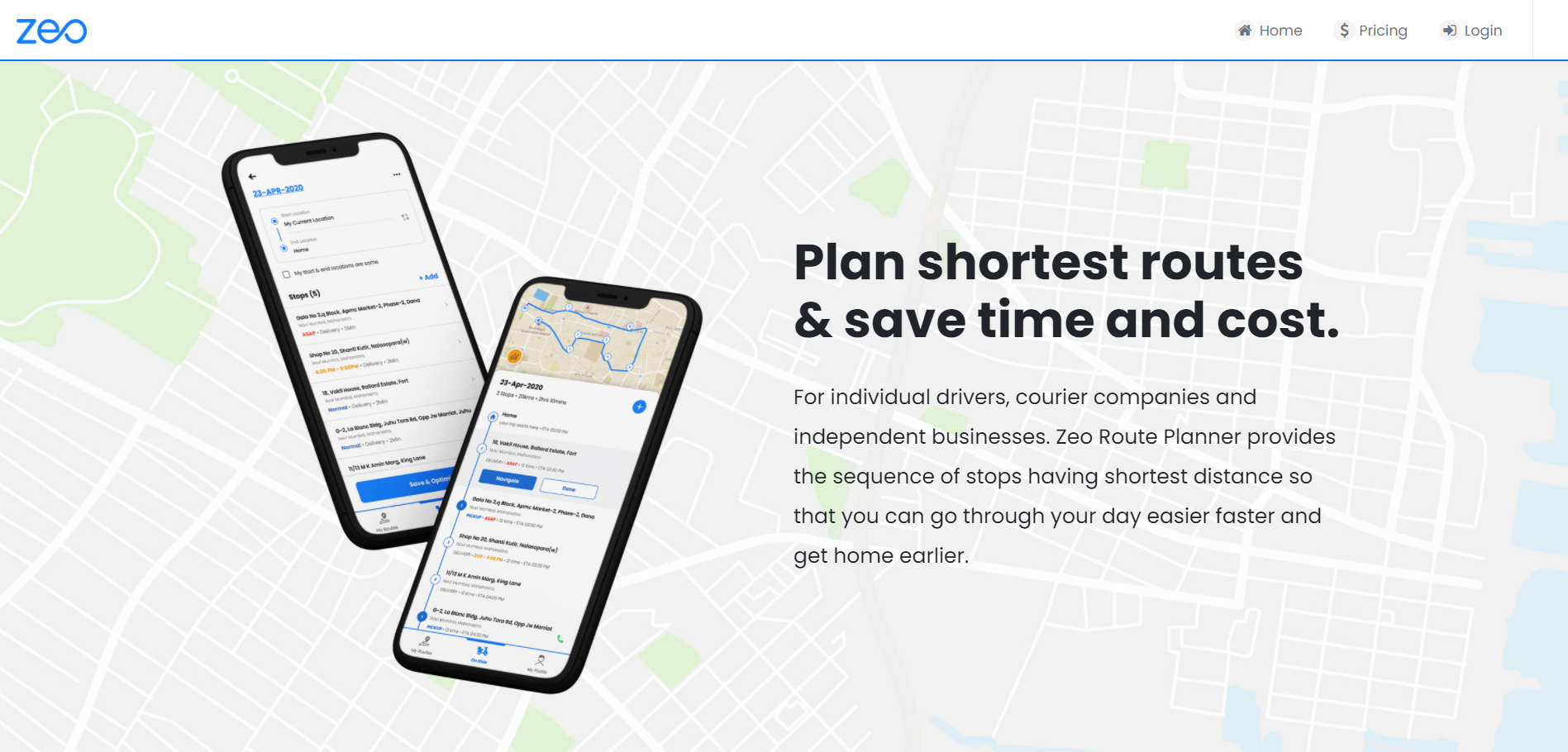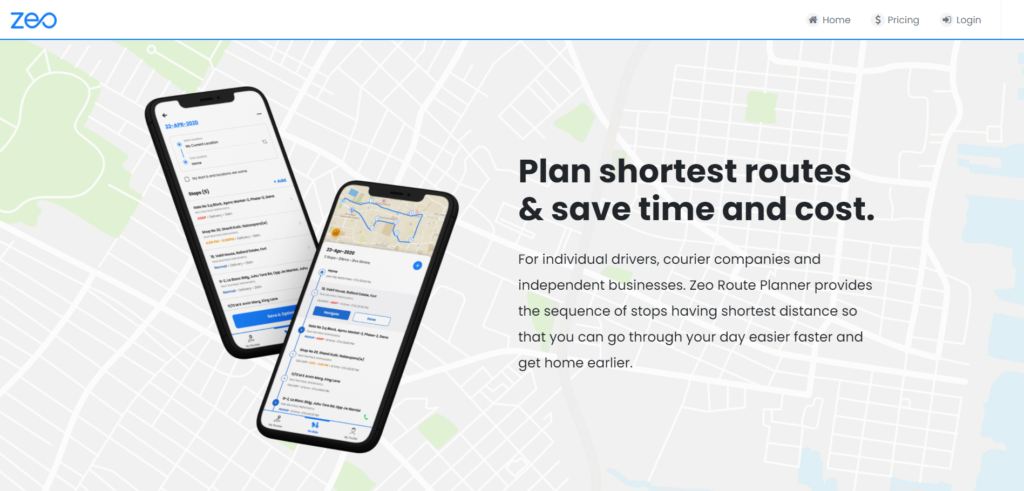 We introduced various features into our route planning software, and today we are serving a vast range of customers who own their own last-mile delivery business. Our mobile application supports both Android and iOS platforms, and our web app helps the dispatchers a lot in managing all the delivery operations.
Route planning and optimization
Zeo Route Planner responsive app lets you import more than 800 addresses at a time, which both drivers and dispatchers can do. For this purpose, we have introduced various features to import all your delivery address into the app seamlessly. You get the option to import all you address in the spreadsheet format, image capture/OCR, bar/QR code and manual typing. Our manual typing uses the same autocomplete feature provided by Google Maps, but a few more tweaks make the process easier. Compare that with Route4Me, where you can only plan multi-driver routes when you're on Route4Me's most expensive plan.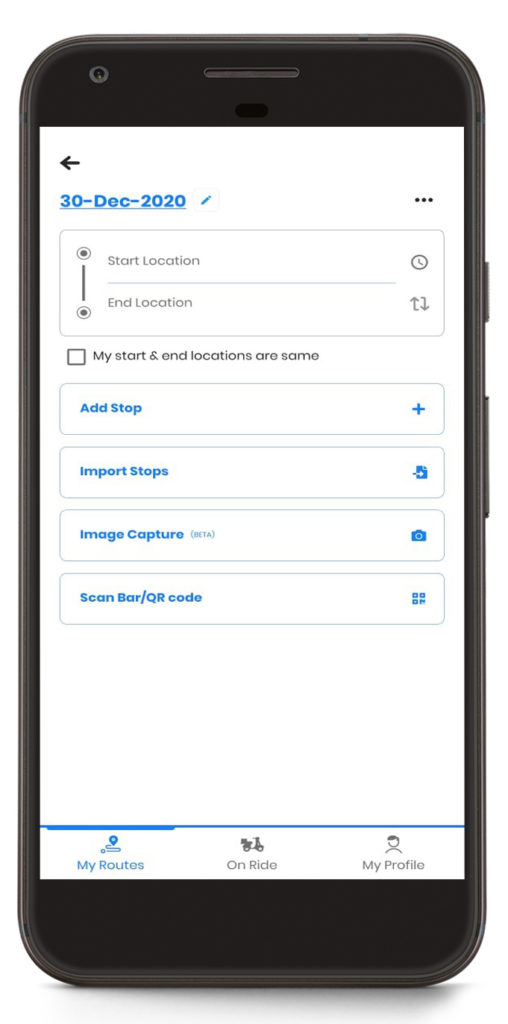 After importing all your addresses to the Zeo Route Planner app, you need to set the Start Location and End Location and then click on the Save and Optimise button. Zeo Route Planner uses an advanced algorithm that will provide you the most efficient route for your drivers. The app gives you the optimized path in just 20 seconds.
Apart from this, you can also set various important delivery instructions for your delivery. You can set Stop Duration, Delivery Type (Pickup or Delivery), Delivery Priority (ASAP or Normal), Additional Customer Details in the Zeo Route Planner app. We think that this feature helps you manage the delivery properly, and therefore we have added these features.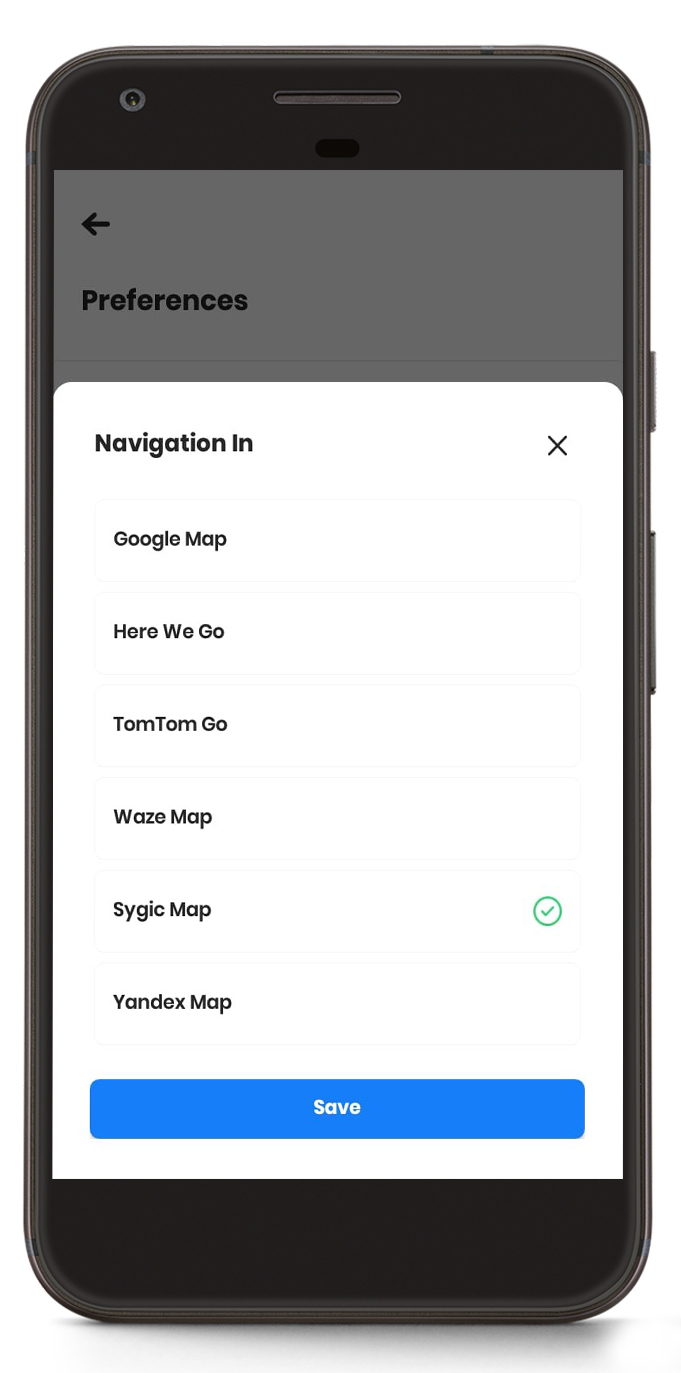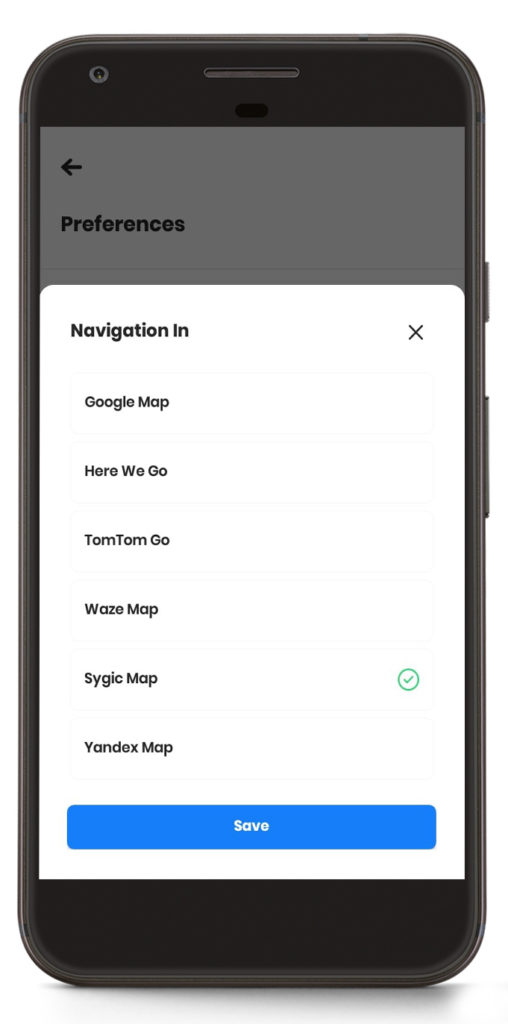 Zeo Route Planner also provides integration with all major navigation services in their free and premium tier. Zeo Route Planner opens your preferred navigation app, which you can easily choose from the app's Settings. Zeo Route Planner supports Google Maps, Yandex Maps, Waze Maps, Apple Maps, TomTom Go, Here WeGo Maps, and Sygic Maps.
Live tracking of routes
Route monitoring or GPS tracking is one of the essential features which is necessary if you are in the delivery business. You need to know your drivers' exact location so that you can keep your customers informed if they call for an inquiry. We want to announce that many of the route panning software providers don't provide this feature in their trail plan, and to access this feature, you need to pay for the Premium plan. But we at Zeo Route Planner give this feature in our web app in the free tier service, s that you don't get closed to one component.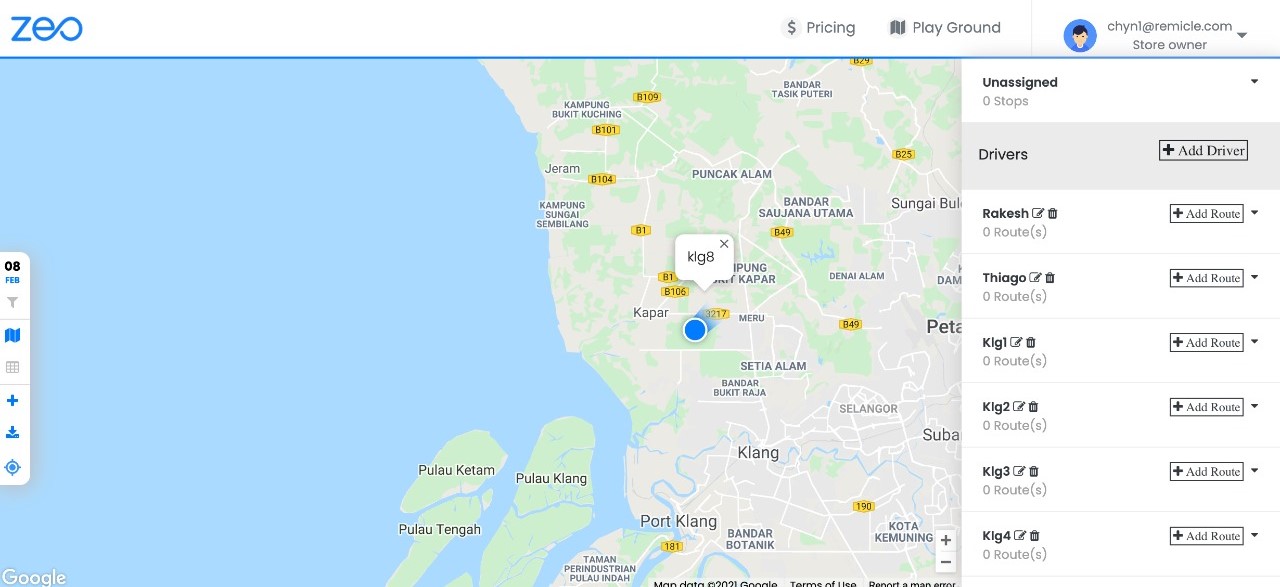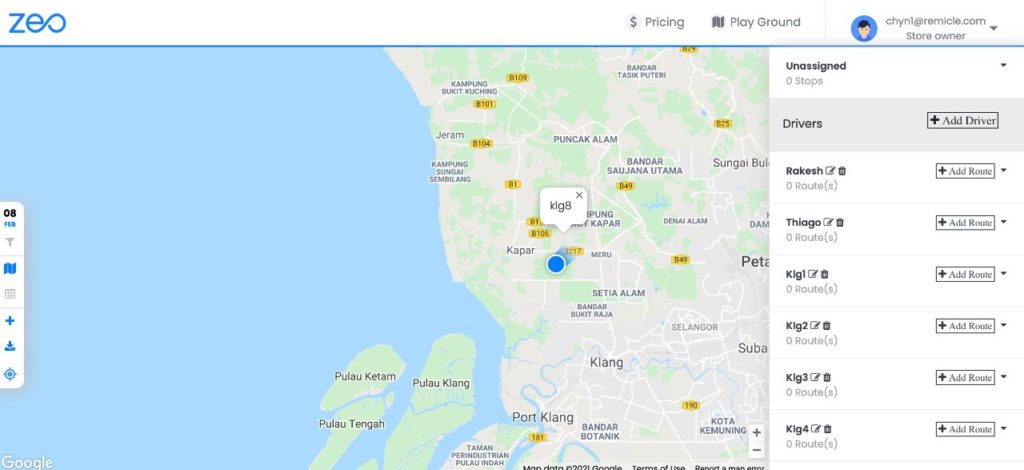 Compare that to Route4Me, which offers route monitoring as an extra add-on you can purchase through their marketplace for an additional $90 a month. With the help of the route monitoring service, you can see all your drivers' live locations, and you are aware of where you driver are heading. If they suffer from any breakdowns on the roads, then you can send immediate help to them. With live tracking, you can also get your customers informed about the delivery if someone calls you back at the dispatching center.
Customer notifications
We think that today's world is more customer-centric, which has also impacted the last-mile delivery systems. Thus the recipient notification is one of the essential features in the delivery software in 2021. With other features, you get access to use this feature in the free tier services as well.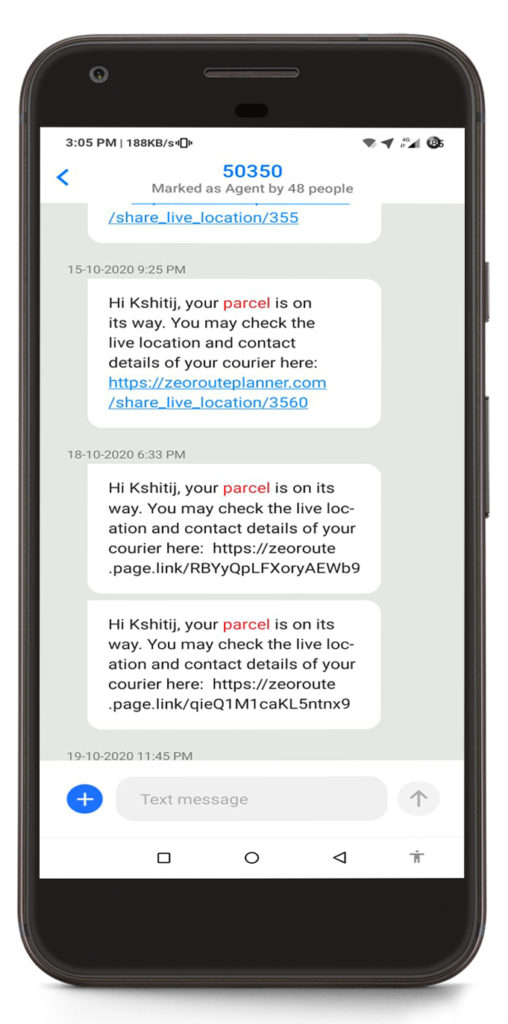 With Zeo Route Planner delivery management software's help, you can easily send out customer notifications regarding the delivery. The customers will receive the messages via SMS/email or both. They will also get a link attached through which they can track their delivery as well. With the help of this feature, you can win your customers' hearts. If you are managing a good relationship with your customers, it is liable that your business will grow exponentially.
Providing electronic Proof of Delivery
As we discussed, the delivery operations trends are shifting towards customer-centric; another feature that is very important in 2021 is Proof of Delivery. Managing POD is critical in the last mile delivery operations as it helps you maintain a healthy relationship with your customers and your business. We want to notify you that you don't get the POD in the free tier of any delivery management app, but you get in the free tier service of the Zeo Route Planner.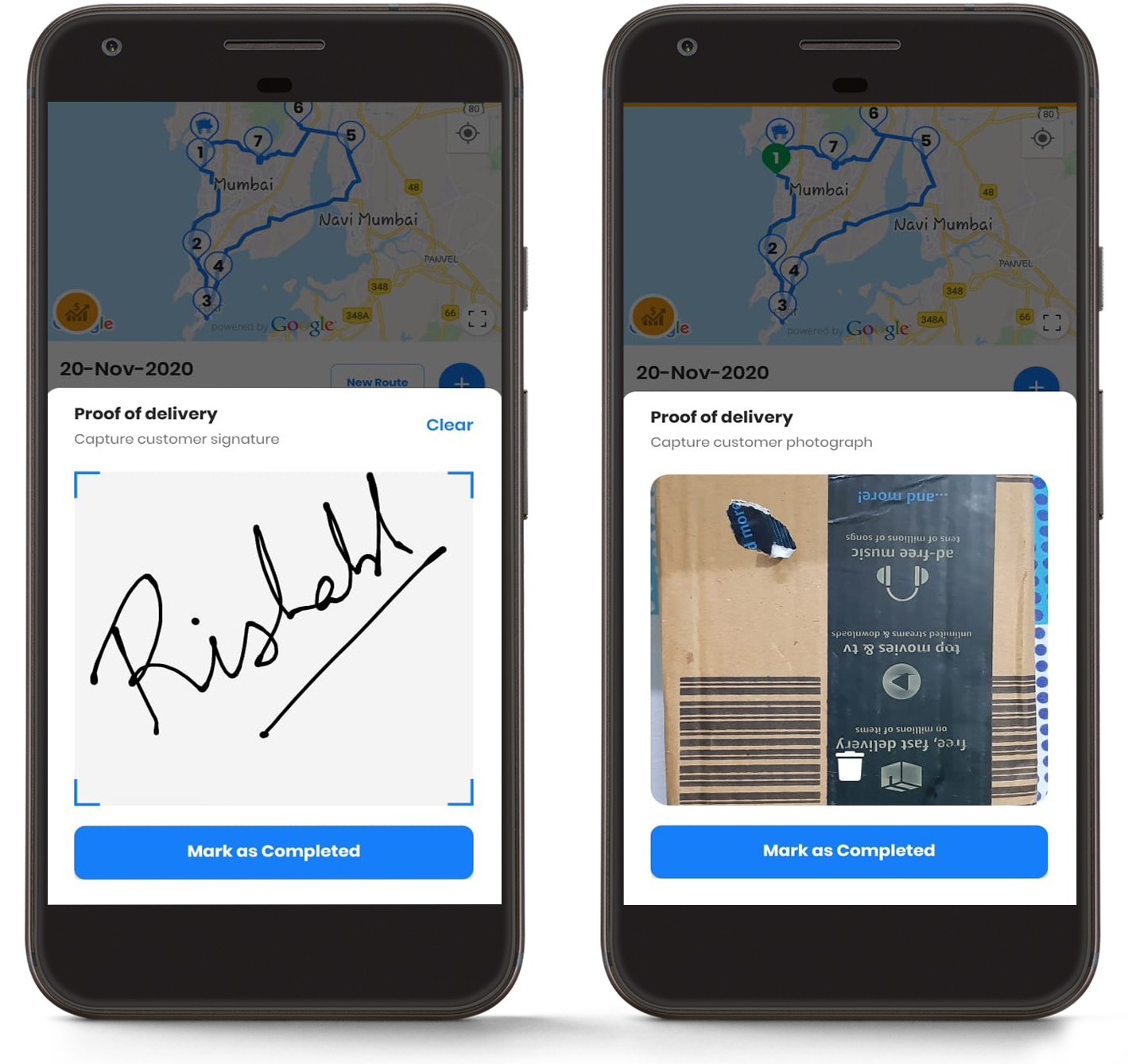 Zeo Route Planner offers you electronic Proof of Delivery or ePOD with the help of which your drivers can get the proof of the package delivered at the right place and in the right hands. We offer you two ways to capture the POD:
Signature Capture: The driver can use their smartphone as a tool to capture the signature of the recipient and ask the customer to use their fingers as a stylus and sign over the screen.
Photographic Capture: With this option, the delivery driver can leave the package at a safe place if the recipient is not there to take the delivery, and then they can capture the image of the place where they left the package for the customer.
With the help of the ePOD, you can maintain a right track of all your packages delivered, and if there is any discrepancy that comes from the customer's side, then you can quickly backtrack the database and retrieve the proof of delivery, whether signature or photograph to resolve the issues with your customers
Pricing of Zeo Route Planner
Pricing plays a vital role in the last-mile delivery business. You don't want to pay for any routing app which doesn't provide you all your required features. Zeo Route Planner provides a free tier service for one week without asking for your card details. By default, when you download the app, you get the premium feature enabled, in which you get access to all premium features.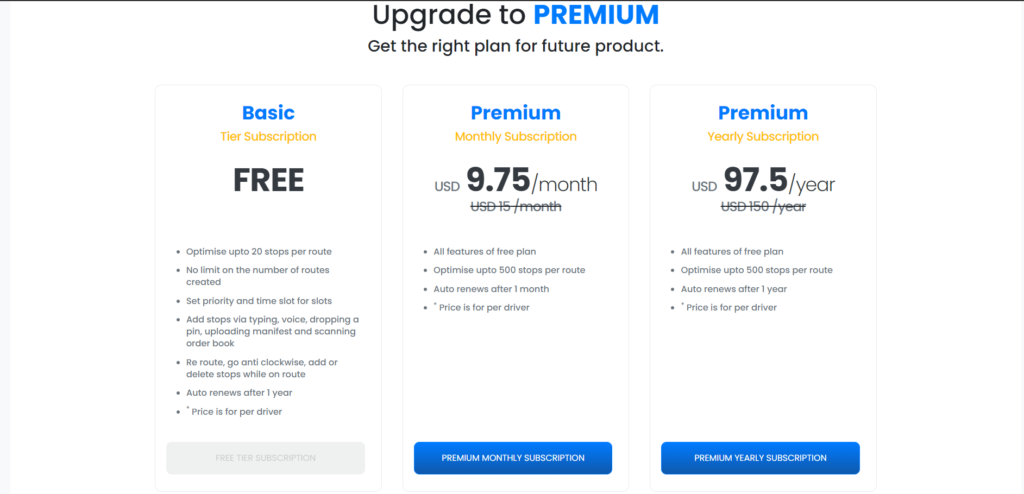 After that, if you purchase the premium tier, you continue to use the premium features; else, you are shifted to a free tier service in which you can only add up to 20 stops. Zeo Route Planner offers you a free pass, which you can get by referring the app to your friends after the trial of your premium tier. Zeo Route Planner costs around $15 in the US market, and currently, we are operating at $9.75.
2. Circuit
Circuit is also a delivery management software that offers good service for the delivery operations, and they are doing reasonably well in this domain. They offer two different apps, one for the drivers and the other for teams.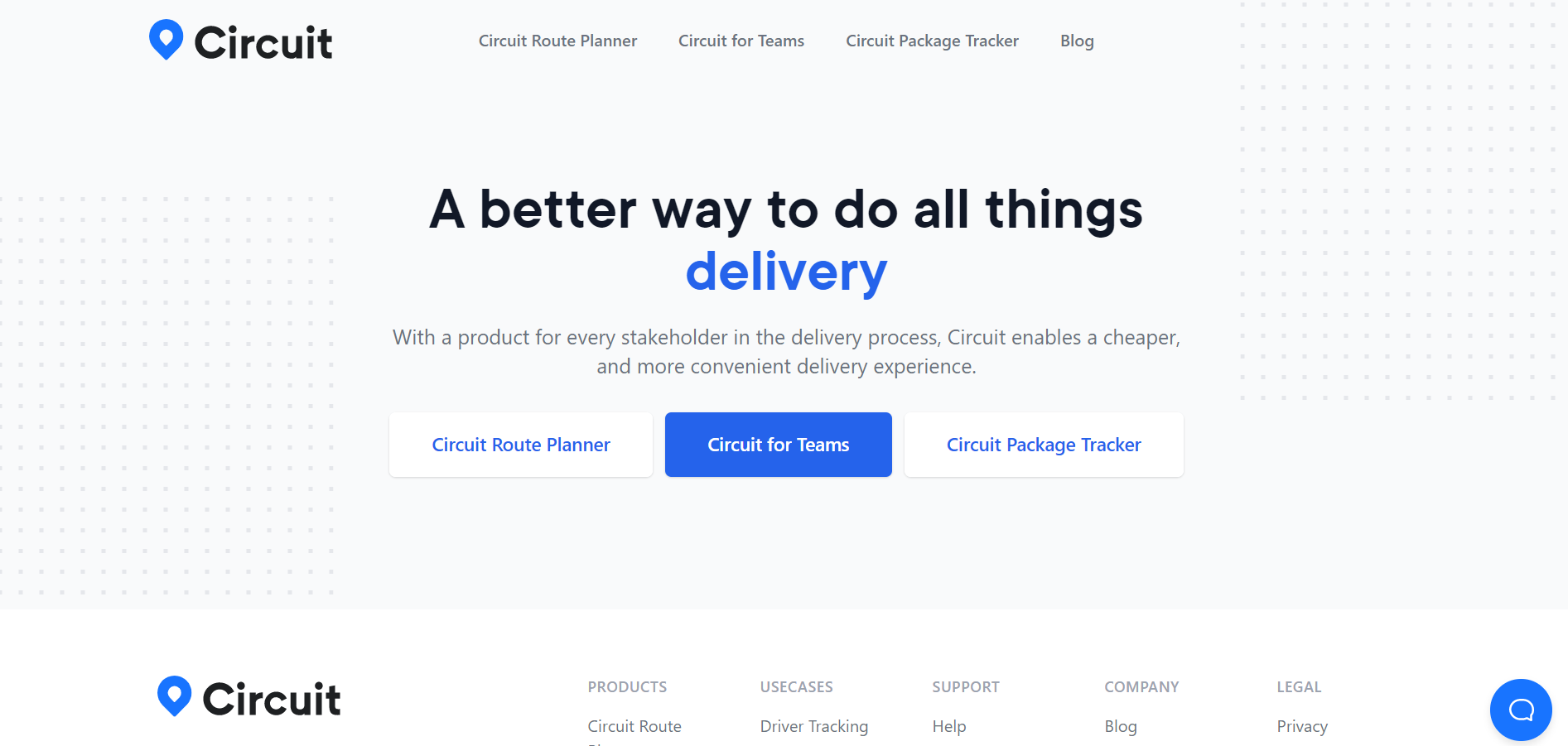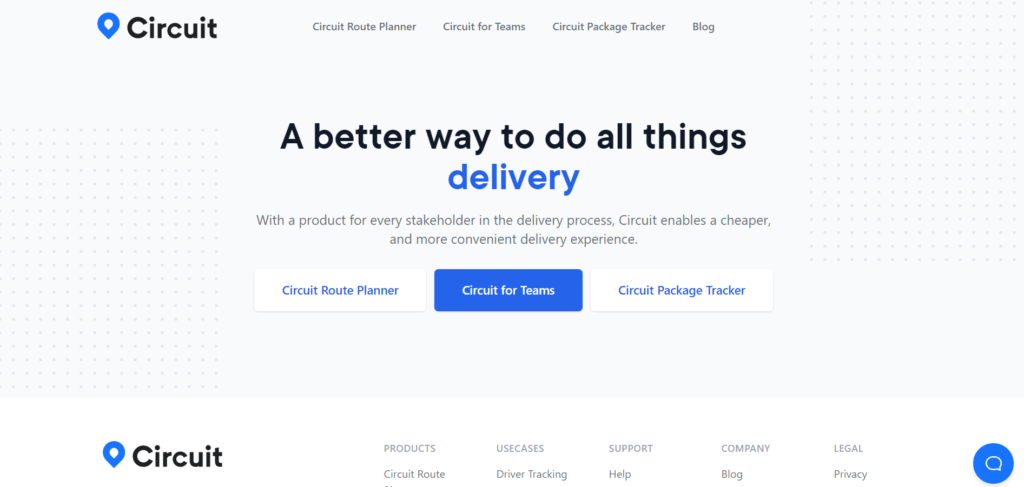 The app for individual driver only allows you to load the addresses and complete the delivery operations. Circuit for Teams is their latest introduction in the market, including all the advanced features and access to their web app, which the dispatcher manages.
Features in circuit for individual drivers
As we have discussed, circuit is a delivery software, and it has two different options: Circuit for Teams and Circuit's Route Planner for individual drivers. If you're an individual driver and you want to only deliver good by just having the optimized route, then you can go ahead and download the Circuit app. You can download the free mobile app that works for iOS and Android devices.
You won't be getting any additional features in the Circuit app for individual drivers apart from getting the optimized route, and that too will have a cap on the number of routes you will enter in the app. Remember that you will not get the features that are essential for managing the delivery operations.
Features in circuit for teams
Circuit for teams is the latest introduction by the Circuit in the market. It includes all the additional features required for the proper management of the delivery operations, such as Proof of Delivery, route monitoring, web app access, recipient notifications, and many more.
With Circuit for teams, you get the option to import your addresses using a spreadsheet, route optimization and customization, GPS tracking, recipient notification (both SMS messages and email notifications), and Proof of Delivery.
With Circuit for Teams, you can optimize routes for one driver or several. Compare that with Route4Me, where you can only plan multi-driver routes when you're on Route4Me's most expensive plan. You also get the choice to add additional details such as Priority Stop and Time Window for particular stops.
Circuit pricing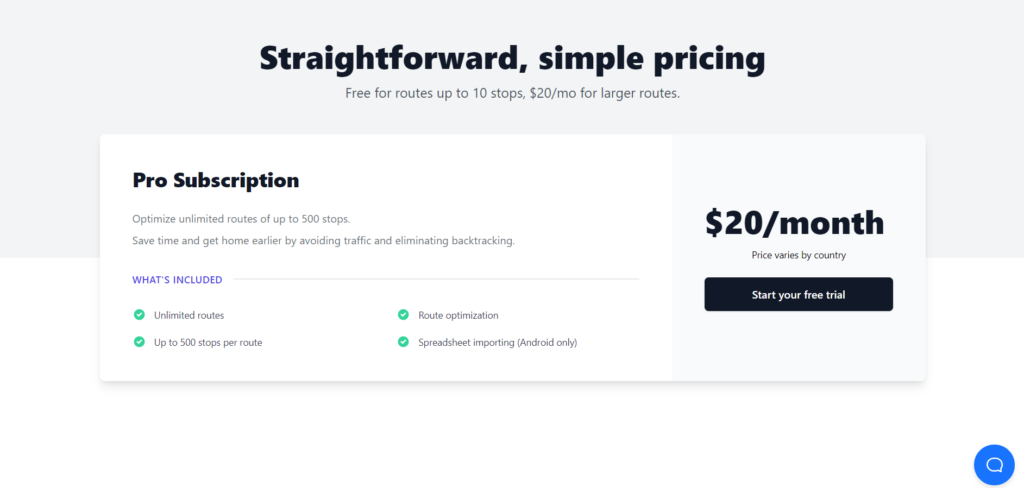 Circuit app provides you a one-week free tier in which you can add ten stops. One thing to note here is that Circuit asks you to enter your card details when you try your free tier services. Also, Circuit for the US market costs you around $20. If you want to add more stops, you need to get the Pro subscription, in which you will get the option to add 500 stops along with spreadsheet import.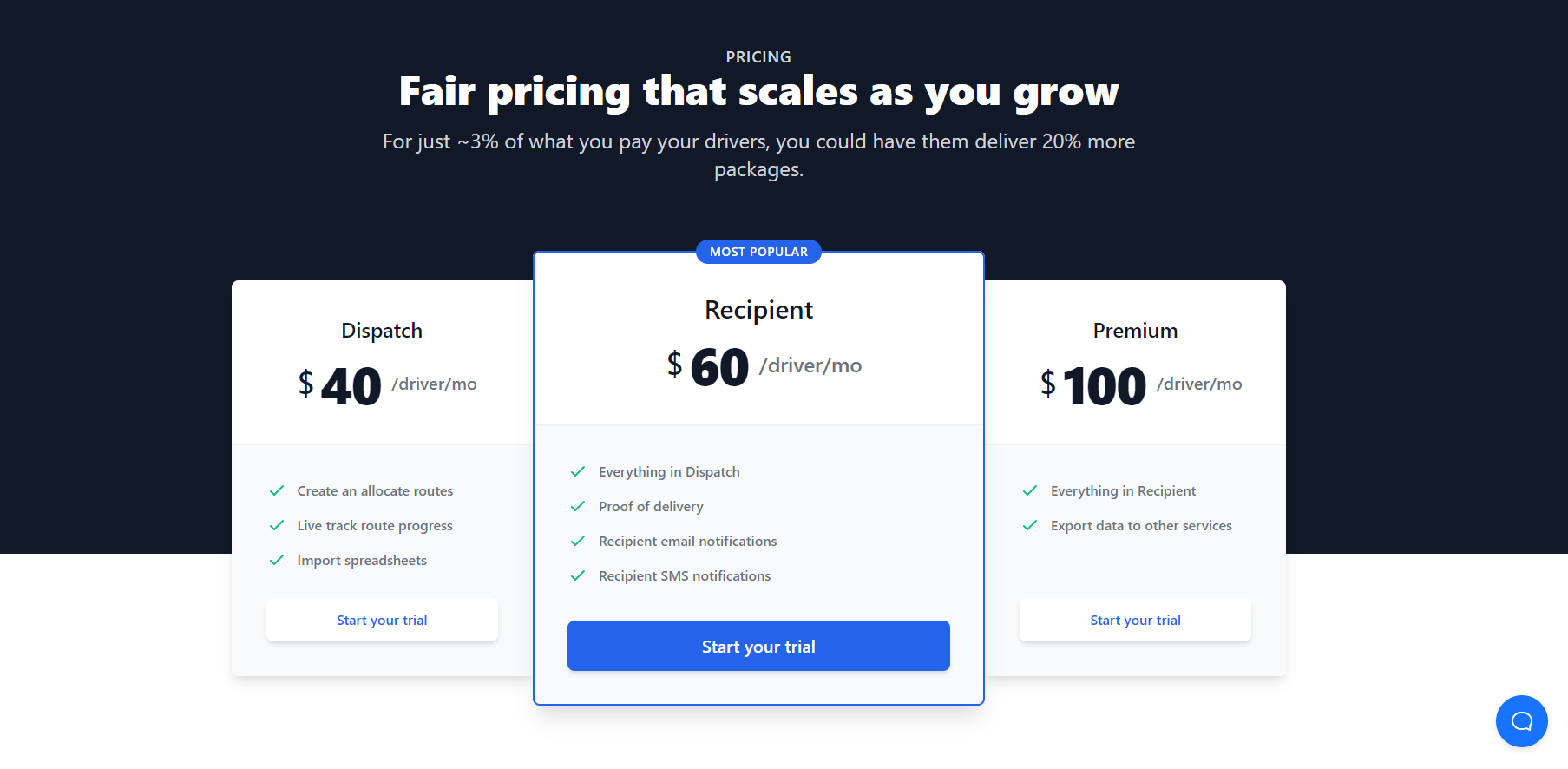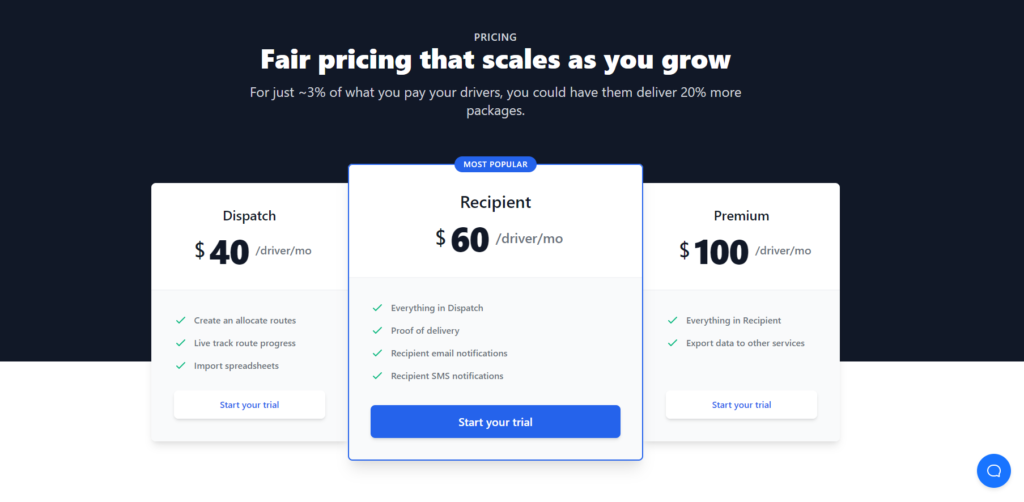 Whereas Circuit for Teams has three different plans. The Dispatch plan costs you $40/driver/month (includes live tracking and spreadsheet import). The Recipient plan costs $60/driver/month (has everything from dispatch, proof of delivery, recipient SMS, and email notifications). The Premium plan costs $100/driver/month (has everything from the recipient plan and allows exporting data to other services).
3. RoadWarrior
RoadWarrior is another such route planning app that is an alternative to the Route4Me app. Think of RoadWarrior as a light-weight alternative to Route4Me. It doesn't have a marketplace of add-ons you can use, nor does it have all the Zeo Route Planner's core features. But RoadWarrior is an affordable alternative to Route4Me, especially for delivery teams who only need specific features, which we cover in the pricing section below.
RoadWarrior pricing
RoadWarrior offers three different pricing plans: (1) Basic (2) Pro and (3) Flex.
RoadWarrior's Basic plan is free, but you can only make routes with eight stops. Plus, it limits you to a daily total of 50 optimized visits. In contrast: Zeo Route Planner has a free route planning service that doesn't limit the number of routes you can make in a day.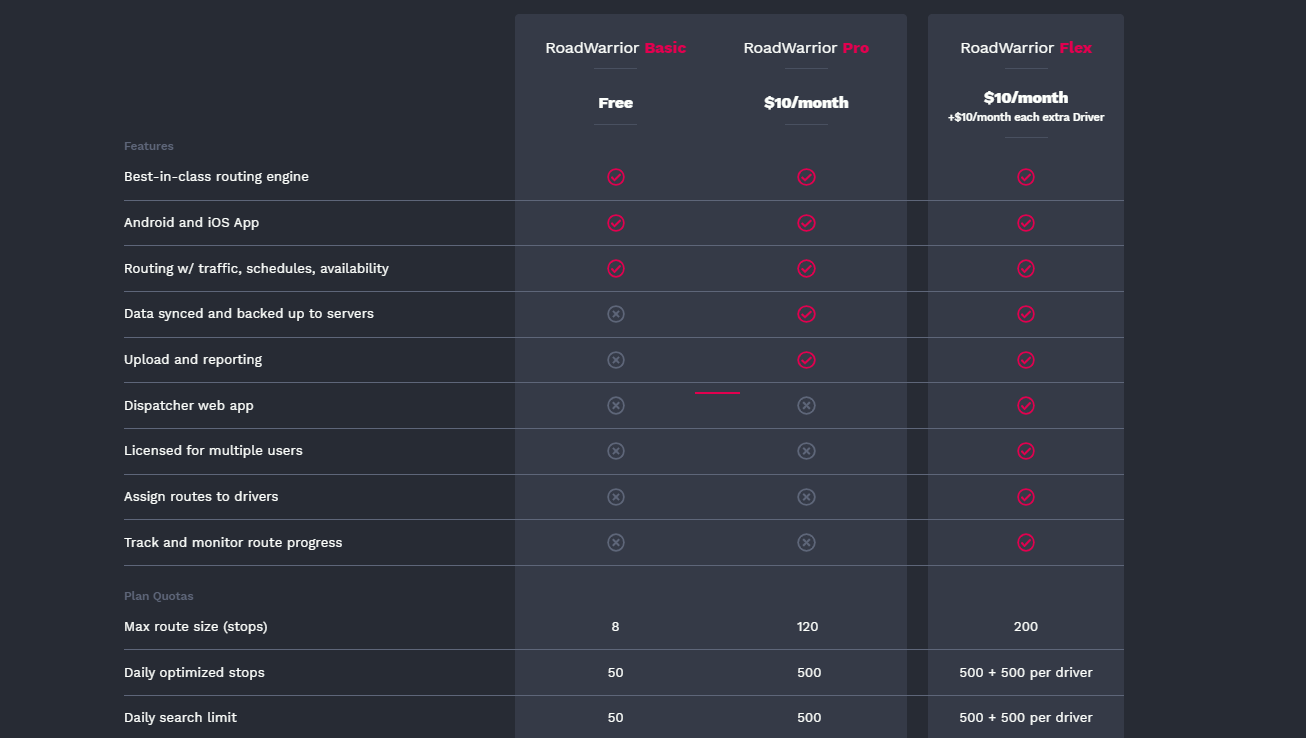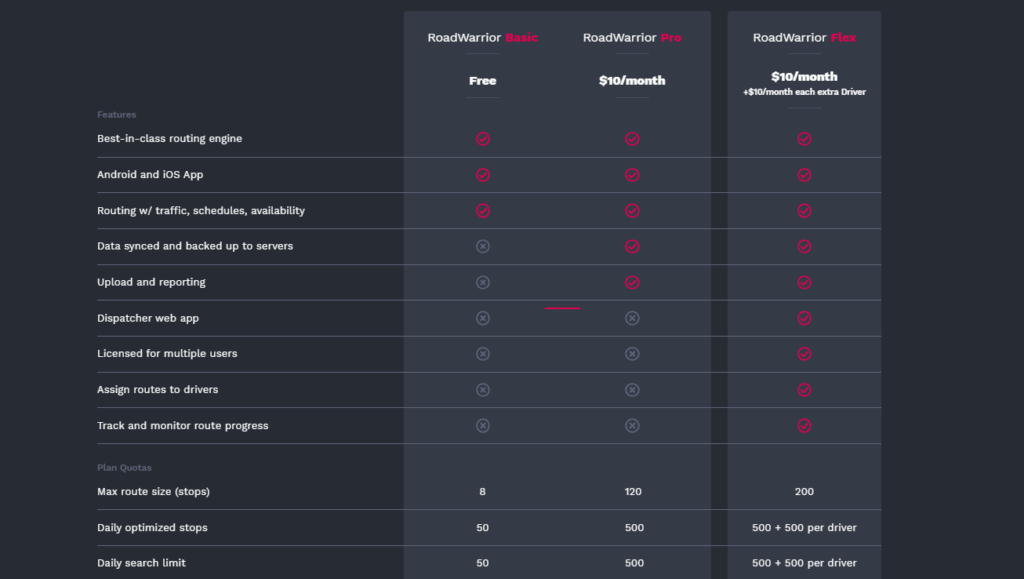 RoadWarrior's Pro plan costs $10 a month, but again your route's size is limited. You can't make more than 120 stops per route, and the number of stops you can make in a day is limited (no more than 500).
RoadWarrior's Flex plan is like its Pro Plan but built for multiple drivers. It's $10 a month, plus an extra $10 for any additional uses. It's only in RoadWarrior's flex plan that you can start tracking and monitoring your in-progress routes.
Conclusion
We leave it up to you to decide if Route4Me is a good delivery management app for you or not, but we have listed down various other options to look after. Though the user interface of Route4Me is good the features, you need for the proper management of the delivery operation is provided at very high costs.
Talking about our own platform Zeo Route Planner, you get a range of available features for the last mile delivery operations, which are quite necessary for the delivery business in 2021. We provide you various methods to add addresses into the app and add additional details for your stop.
You also get Proof of Delivery, live GPS tracking, and recipient notifications at a very reasonable rate. We never put a cap on the number of times you optimize your routes throughout the day. You also get a web app for dispatchers who can manage all your drivers if you have a delivery team and thus increase your profits at the end of the day.
With this note, we will leave you to decide which app suits your business more, and by using which app, you can increase the total profits of your business.
Try it now
Our motive is to make life easier and comfortable for small and medium businesses. So now you are only one step away to import your excel and start away.
Download the Zeo Route Planner from Play Store
https://play.google.com/store/apps/details?id=com.zeoauto.zeocircuit
Download the Zeo Route Planner from App Store
https://apps.apple.com/in/app/zeo-route-planner/id1525068524
In This Article