Reading Time:
5
minutes
Obtaining proof of delivery protects your delivery team from the risk of misplaced packages, fraudulent claims, and delivery errors. Traditionally, proof of delivery has been obtained with a signature on a paper form. Still, delivery management teams are increasingly looking for software tools and electronic proof of delivery (a.k.a. ePOD).
We'll explore why paper-based proof of delivery doesn't make sense anymore and look at how you can add electronic POD to your existing delivery operations and make your delivery business more reliable.
With the help of this post, we'll give you guidance on which type of ePOD solution might suit your delivery business and highlight the benefits of choosing Zeo Route Planner to capture digital signatures and photographs as proof of delivery.
Note: Zeo Route Planner offers Proof of Delivery in our teams' app and individual driver's app. We also offer Proof of Delivery in our free tier service.
Why Paper-Based Proof of Delivery is obselete
There are a few reasons why paper-based proof of delivery no longer makes sense for drivers or dispatchers. We have listed a few of those reasons below:
Storage and Security
Drivers need to keep physical documents safe from loss or damage all day, and dispatchers need to store them at HQ. Either they need to be scanned into your system and destroyed or securely kept in cabinets. If any documents are lost, so are the POD signatures, which opens up the potential for painful delivery disputes.
Manually entering data
Reconciling and merging paper records at the end of each day demands a lot of your time and energy. We all know that working with lots of papers and records creates a huge chance of loss and mistakes, and thus this is another reason why paper POD is old-fashioned.
Lack of real time visibility
If a driver collects a signature on paper, the dispatcher doesn't know until the driver returns from their route or until they call and get the driver to rifle through a folder. This means the info is only known later, and the dispatcher can't update recipients in real-time if they inquire about a package. And without photo proof, the driver can't always accurately explain where they've left a package in a safe place. Notes are subjective and can be unclear, and without the context of an image, it might be hard to communicate a location to a recipient.
Impact on environment
Using reams of paper every day doesn't help you cut down on your carbon footprint, that's for sure. The more deliveries you make, the harder the impact.
In a nutshell, paper-based proof of delivery is outdated, inefficient (i.e., slow to process), and doesn't benefit the experience of recipients, delivery drivers, or dispatch managers. It may have made sense when there was no feasible alternative, but these days, you can choose from a range of electronic Proof of Delivery solutions to improve delivery services.
What options are available for Electronic Proof of Delivery
When it comes to adding paperless electronic proof of delivery to your existing delivery operations, you have two options:
Dedicated proof of delivery software: A standalone ePOD solution only offers proof of delivery functionality, usually through an API plugged into your other internal systems. And some purpose-built ePOD tools are part of a suite, operating independently of the other functionality, and you need to purchase the supporting features at extra cost.

Delivery management solutions: With the Zeo Route Planner app's help, electronic proof of delivery comes included with our free & premium plans. As well as ePOD, you get route planning and optimization (for multiple drivers), real-time driver tracking, automated ETAs, recipient updates, and more.
Depending on your situation, one option might suit you better than the other.
For example, if you have a small or midsize delivery team, it makes sense to consolidate your delivery operations (including POD) into a single unified platform by using Zeo Route Planner.
But if you're an individual or microbusiness (with no ambition to scale) doing single-figure delivery stops each day, and you want extra peace of mind with POD but don't need delivery management features, a standalone app might be more appealing.
And if you're an enterprise with a large vehicle fleet and complex technical infrastructure, a custom ePOD solution that plugs into your existing systems may be more appropriate for your needs.
For a deep dive into choosing the best POD app, check out our post: How to choose the best Proof of Delivery app for Your delivery business.
Proof of Delivery in the Zeo Route Planner
With Zeo Route Planner as your electronic proof of delivery app, you get all the functionality you need combining with other key features that streamline processes for your delivery business. Let's look at how you can use the Zeo Route Planner app for the Proof of Delivery:
Electronic signature capture: A driver can use their own mobile device to capture electronic signatures, which are then automatically uploaded into the cloud. This means no extra hardware, reduced manual data entry, and accurate real-time visibility for managers and dispatchers back at headquarters.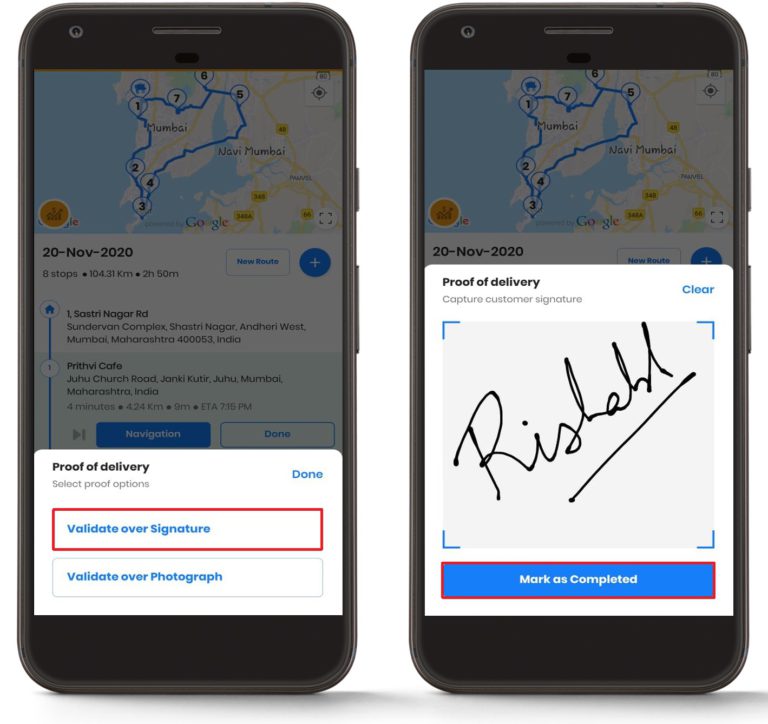 Digital photo capture: Our app's photo capture allows the driver to take a smartphone snap of the package, which is then uploaded to the record and visible in the back-office web app. Being able to capture photographic proof of delivery means that drivers can make more first-time deliveries (cutting down on redelivery) because they can put the package in a safe place and prove where they left it.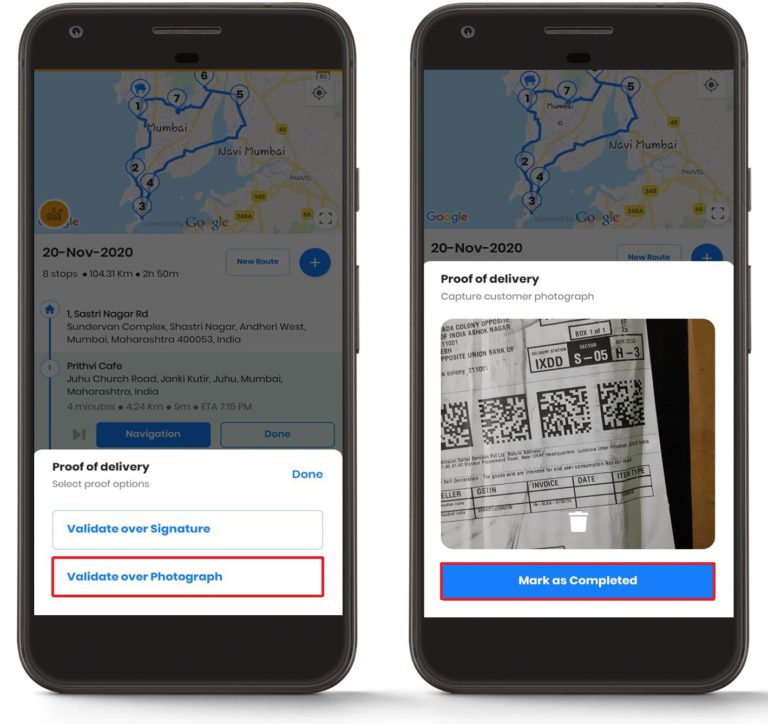 These features translate into tangible business benefits because they mitigate time-consuming glitches in the delivery process, dispute resolution, redelivery, recipient communication, and lost parcel tracking. This means you can focus on improving profitability.
What else we offer other than Proof of Delivery to improve the reliability of your business
Beyond using our app as an electronic Proof of Delivery tool, we have many other features that help drivers and dispatchers manage their delivery routes better. Alongside photo capture and electronic signatures, our delivery platform also provides:
Route Planning and Optimization:
With Zeo Route Planner, you can plan the optimal route for multiple drivers within minutes. Import your spreadsheet, let the algorithm do its thing automatically, and have the fastest route on the app, and the driver can use any of the preferred navigation services.
Note: Our app gives you an unlimited number of stops. Many other route optimization tools (or free alternatives like Google Maps) put a cap on how many you can enter.

Real-Time Driver Tracking:
With Zeo Route Planner, you can do route monitoring back at HQ, tracking drivers in the context of their route using real-time data. Not only does this give you the big picture, but it also allows you to update customers easily if they call.

Dynamic Instructions and Changes:
Swap routes between drivers at the last minute, update routes in progress and account for priority stops or customer timeslots.
When you add proof of delivery functionality into the mix with all the above, Zeo Route Planner offers delivery companies and small businesses a complete delivery management system. And it needs no complex integration, no extra hardware, and very little training for delivery drivers.
Conclusion
Obtaining electronic proof of delivery is a game-changer for businesses who are shifting away from paper-based delivery confirmation and for delivery teams who are starting with POD from scratch.
By enabling drivers to capture photos and e-signatures on their own device, you'll be cutting down on disputes and redeliveries and improving customer satisfaction in the process.
Using the ePOD will help you satisfy your customer and keep them informed that their packages are delivered, thus increasing the reliability of your business.
Try it now
Our motive is to make life easier and comfortable for small and medium businesses. So now you are only one step away to import your excel and start away.
Download the Zeo Route Planner from Play Store
https://play.google.com/store/apps/details?id=com.zeoauto.zeocircuit
Download the Zeo Route Planner from App Store
https://apps.apple.com/in/app/zeo-route-planner/id1525068524
In This Article