Reading Time:
6
minutes
Every business wants to deliver the best and outshine the competition. However, instead of concentrating on the contest, a delivery business must focus on its operations and vision. By adopting a route planning solution, you can streamline deliveries, optimize routes, and track orders to grow your delivery business exponentially. Turn this vision into a reality by following these best 9 strategies.
Top 9 Strategies to Escalate Your Delivery Business in 2022
If you run a delivery service, reducing your cost-per-delivery while providing the best service must be your primary goal from the beginning. The most efficient method to do this is to create route density – the number of deliveries made each hour by your driver through using route optimization tools. The higher this density is, the lower will be the cost per delivery. Below mentioned are some of the best strategies that will help you grow your delivery business in 2022:
1. Plan and Share Schedule in Advance
If you want to reduce delivery times, you'll need to plan ahead of time. The more precisely you plan, the better your operations will be.
Team of drivers, if scheduled ahead of time, promotes a more productive atmosphere. Carriers who know their work calendar weeks in advance have more time to find backup or request a job switch, allowing them to attend crucial family events if any. Thus, establishing a good work-life balance results in happier employees who are more productive and engaged at work. And this gives you the exact idea of resources at your disposal to create better delivery schedules.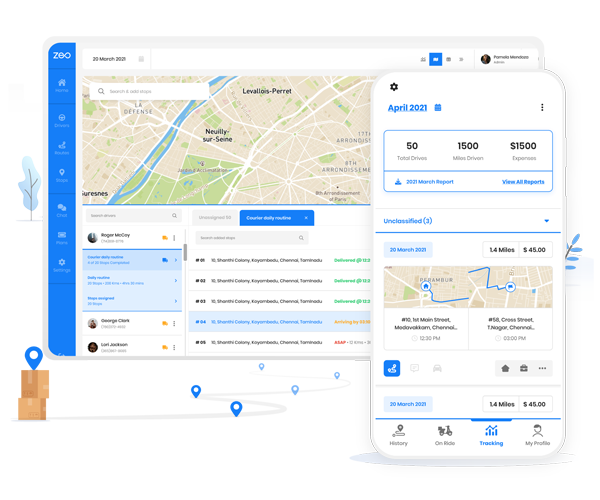 Are you a fleet owner?
Want to manage your drivers and deliveries easily?
It's easy to grow your business with Zeo Routes Planner Fleet Management Tool – optimize your routes and manage multiple drivers at the same time.
In addition to creating weekly schedules for your drivers, you need to create delivery schedules that accommodate factors like traffic, shortest route possible, delivery windows, breaks, refueling, etc. to create a list of deliveries along with the optimized route to follow. Getting tired of manually planning routes for your drivers? Try route planning software instead.
Pro Tip:
During holidays, if you have a surge in orders and you have planned your work deliveries before time, you get substantial time to allocate your additional drivers and meet such a demand successfully.

2. Set the Right Priorities
Having priorities and ordering stops properly guarantees that you serve all of your consumers as efficiently as feasible. All advanced delivery services offer the option for choosing a delivery time window for its clients. Prioritizing the orders makes this possible. Strategic planning for the stops is critical and requires a lot more thought than simply sharing the locations to your drivers. A route planning software empowers fleet managers to optimize routing based on cost, task distribution, or a mix of these two aspects. Even if your priorities alter from week to week, you may adapt routes that fulfill the clients' orders.
Pro Tip:
There are several routes from the origin to the final stop and choosing the best one as per priority orders can be difficult, particularly when last-minute changes cause modifications in route optimization. The route optimization software keeps all the parties fully updated on any variations in routes that may impact the delivery timeline.
3. Recruit and Retain Your Personnel
To deliver products on time and provide your clients with the experience they desire, you'll need professional drivers who arrive at their sites on time.
Hiring the appropriate staff is a great beginning, but onboarding and continuous training are crucial. If they aren't properly imparted as per your standards and processes, even the most experienced driver may struggle to deliver the outcomes you require.
Route and delivery planner app is simple to use and allows your drivers to follow optimum routes, allowing them to get to their stops faster. Your drivers won't have to switch between various platforms as everything they need is accessible in the app. This allows your carriers to concentrate on navigating their trips, arriving at their destinations on time, and providing exceptional customer service.
Pro Tip:
Hiring additional employees can bring several benefits to your workplace if your company has achieved its potential to take on new projects and is generating profitable growth.
4. Automate Your Communication Channels
Communication is essential in every successful organization, but it is even more so when it comes to delivery. Every customer is eager to know about their parcel at all times so that they can schedule their day accordingly.
Gone are the days when they had to call your call center department to check on the expected time of arrival. Using a route and delivery planning software to keep your customers informed about the status of their orders, eliminating the need for them to contact your customer service department. This will save you hundreds of dollars in customer service costs.
5. Streamline Packaging and Updation
The packets are supplied in a range of sizes and shapes. Making the boxes smaller will facilitate the shipping process. Pack the delivery item in such a way that the delivery vehicle can contain the maximum number of parcels feasible. This enables package delivery companies to carry a greater quantity of goods in a shorter amount of time.
With route planning and optimization software, you can keep a track of the packages. You can stay updated on transit statuses via real-time notifications via SMS and/or email sent to all the parties. In this way, you can provide the best delivery services to your customers and retain them for life.
Pro Tip:
You can store every detail related to the packages in the route planning app. And this ultimately makes sorting and loading every parcel location and category-wise super easy.
6. Make Your Online Presence Felt
For courier services, having a social media and website presence may help you establish your brand, interact with potential consumers, and maintain your current customers' satisfaction level. More than 90% of businesses utilize social media marketing to increase sales, communicate with present and prospective customers, and raise brand awareness.
Undoubtedly, social media and a well-designed website have become the go-to promotional tools for companies all over the globe.
Pro Tip:
Design a personalized social media plan for you based on business objectives, monitor your digital platforms, and track campaign results.
7. Optimize Every Route
For delivery service businesses, planning the most efficient route for delivery is of utmost importance. Route planning software uses technological advancements like data analytics and artificial intelligence to automate and visualize logistical activities in a timely manner. Complex algorithms utilize this data to generate the best route and anticipate precise arrival times.
Moreover, order lists in CSV or spreadsheet formats can be directly imported through a route planner. The schedules, thus prepared, can be assigned to drivers depending on availability and needs. In this way, if you reach out to your customers within the agreed timeline or stated ETA, they get highly satisfied and more inclined to employ your services in the future.
Pro Tip:
Use the software that analyzes past data to develop assumptions about recurring traffic patterns in order to better predict traffic jams on a given route. Many algorithms may also replicate the movement of vehicles to gain a sense of traffic and propose an alternative path.
8. Invest in Your Wheels
The success of your delivery service is inextricably linked to the availability of reliable modes of transportation. Before buying vehicles, you must research well in advance.
Your vehicles need to be an asset and not a liability. The vehicles should be in good condition, requiring minimal maintenance and should be comfortable for your drivers. Factors like fuel efficiency, maintenance costs, vehicle size, insurance costs, etc. should be considered. If the drivers will drive the vesicles for a long period of time, then the seats should be accommodating to maximize employee satisfaction.
Pro Tip:
You might consider other equipment in addition to automobiles. Moving dollies, appliance dollies, and hand trucks will very certainly be required. You may take on a larger range of jobs if you have the correct moving equipment on hand.
9. Calculate Your Outcome
You may use a robust logistics solution to track a few key parameters to assess the success of your courier service. From how economically operations managers spend and allocate resources to how drivers take up or drop off the shipments must be assessed.
Not only does employing metrics in logistics enable you to take concrete steps to evaluate the effectiveness of your service, but it also helps to identify your delivery logistics' strengths and limitations. And if you gain these insights, you can take steps to improve the overall network's functionality and output quality.
Pro Tip:
The important logistics KPIs that can help you attain your goals are Average Cost of Delivery, Average Time Per Delivery, Vehicle Capacity vs. Available Capacity, Transit Time to Distance, Order Accuracy, On-Time Delivery, and Number of Deliveries metrics.
Final Thoughts
Following these proven strategies will help you execute your operations in the most efficient manner and grow your delivery business. Employing a dynamic route planning software aids you achieve your goal as it interprets past and current data, auto-allocates resources, and improves resource usage for the advantage of the company.
It enables you to add multi-drop deliveries, increase productivity, eliminate empty miles, and supply efficient driving directions in just a click. Hence, with such route optimization, your delivery business' operating expenses are reduced and customer satisfaction is amplified.
In This Article